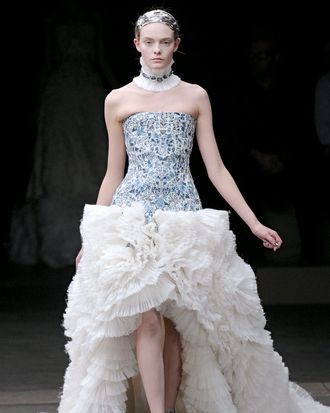 A lacy look from the fall 2011 McQueen collection.
Hotly tipped as the design house behind Kate Middleton's wedding dress, you'd expect much suspicion was aroused in the Alexander McQueen studios once lots of bridal-esque silks and lace started passing through. As previously explained, most of the seamstresses were told they were working on "period costumes," and everyone signed non-disclosure agreements just in case. And that wasn't all. At the unveiling of a new exhibition featuring a fall 2011 McQueen gown, Hamish Bowles explained that the fashion house's fall 2011 collection functioned as a cover of sorts for what Sarah Burton dubbed "The White Dress Project." Specifically, the production of the ornate white gowns gave the house an opportunity to justify the presence of, yes, bolts of those bridal-esque silks and lace.
Bowles noted that even Anna Wintour couldn't get the truth out of Burton.
"[She] looked Sarah in the eye – an experience that would jelly the marrow of bigger people – and asked, 'Are you designing Kate Middleton's dress?' and Sarah said, 'I am not designing the dress.' So Anna was telling everyone, 'Sarah told me she's not doing the dress, so she's not doing the dress.' Now Anna admits Sarah did an amazing job."
Oh, to have been a fly on the wall during that staredown.