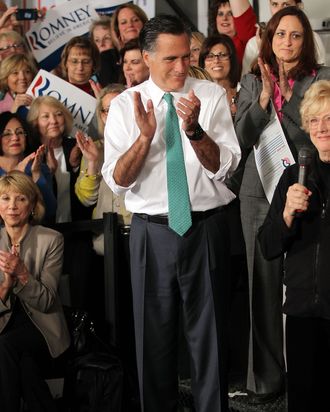 Photo: Spencer Platt/2012 Getty Images
It's no secret that the fashion industry falls all over itself for President Obama — the Anna Wintour co-hosted dinners in Harvey Weinstein's basement, the bundling (oh, the bundling!), and most recently, the DVF–, Rachel Roy–, and Vera Wang–supported (among many others) fund-raising initiative, Runway to Win. According to the Center for Responsive Politics, who pulled together the numbers for WWD, "mass retail and apparel brand executives and employees gave a total of $435,160" since January 2011, with 53.9 percent going to Obama; that's $234,600 from the likes of Tommy Hilfiger, Tory Burch, and Michael Kors.
Mitt Romney hasn't come home empty-handed, however, making $137,126 off of fashion folk. Explained Sheila Krumholz, executive director of the Center for Responsive Politics:
To the degree we are talking about New York City celebrity designers versus corporations that have primarily developed multifaceted retail empires, I think it is logical to see a more conservative approach with a focus on economic interests [in favor of Romney] as opposed to social issues driving their politics. Of course, you can't ignore the role that gay rights advocates play from within the industry, which takes a much different view of the Obama camp than the Romney campaign.
Mittens' staffers will be sending thank-you notes to Emanuel Chirico, chairman and chief executive officer of PVH Corp., who contributed $2,500; Paul Marciano, CEO of Guess, Inc. and regular courtroom guest, who contributed $2,500; and Ed Emma, president and COO of Jockey International, who contributed $450. That's only seventeen two-packs of Jockey Pouch Big Man Briefs. And we'll take a thank-you note for providing you with that mental image.