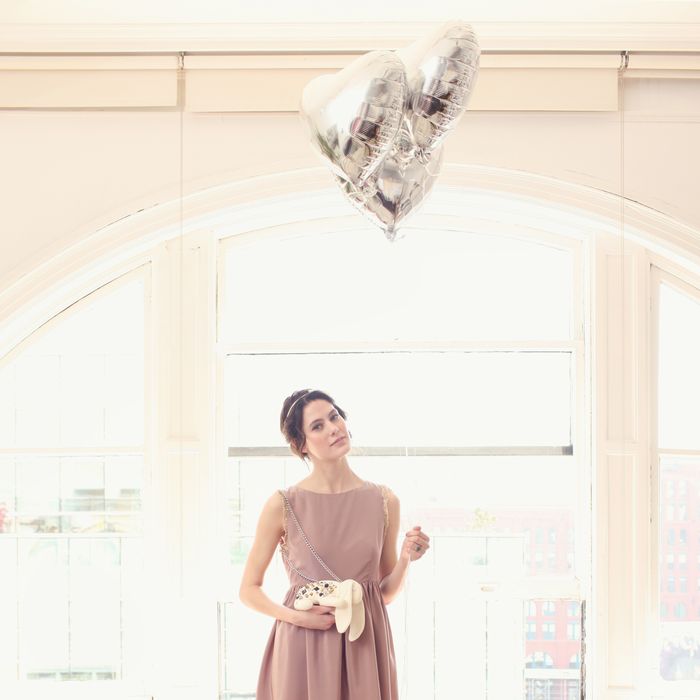 It's wedding season, and odds are you've been asked to be in a bridal party. One of the drawbacks of being bequeathed the high honor of bridesmaid is that you traditionally end up in a dress you loathe, which will end up shoved in the corner of your closet for all of eternity. In an effort to stop the madness, we asked five New York City stores to put together looks that someone would actually want to wear down the aisle … and in public. Click ahead to see how Milly, Saks Fifth Avenue, Stone Fox Bride, Calypso St. Barth, and Wedding Library would style a bridesmaid.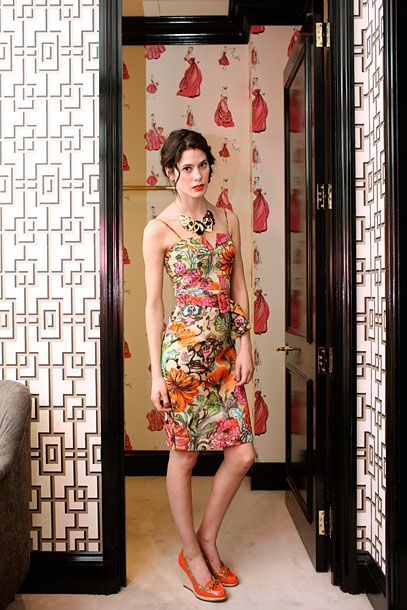 Milly
For a bridesmaid look that would fit in at a classic country club wedding, general manager Debra Roldan put Wilhelmina model Mackenzie Jardine in Milly's Jessica Notch dress ($365), which she said evokes "a fresh-off-the-runway look for a vibrant spring wedding party." To bring out the orange in the print, Roldan chose Milly for Sperry Cunard Wedges ($195) and the Milly enamel disk necklace ($175).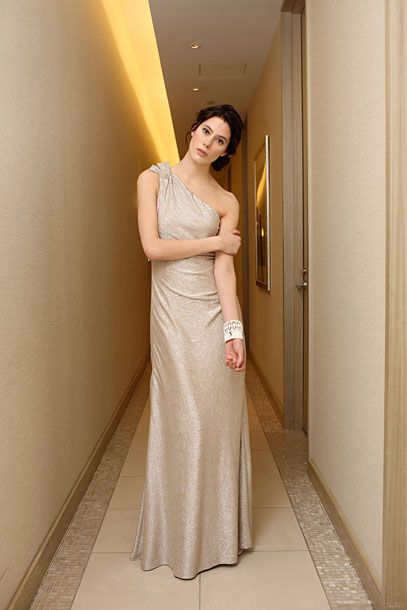 Saks Fifth Avenue
Senior fashion director Colleen Sherin styled Mackenzie for an elegant evening wedding. She said the gold David Meister one-shoulder gown ($550) "epitomizes evening glamour [and] the silhouette, with side-ruching detail, will be flattering on many different body types." She chose two Adriana Orsini cuffs ($375, bottom; $455, top) and sparkly Kate Spade heels ($328) to finish the look which she said can be worn "long after the wedding — it will not end up in the back of the closet!"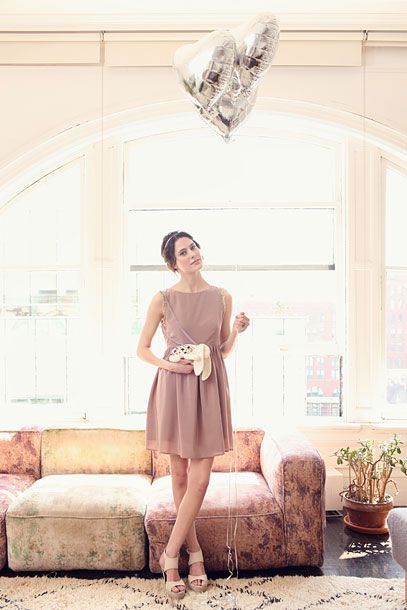 Stone Fox Bride
Creative director Molly Guy described her whimiscal outfit as "Jane Birkin meets Edie Sedgwick meets a modern-day Holly GoLightly," choosing a blush Wren dress ($430) and accessorizing with Marni shoes, Stone Fox Bride's "The Becca" ring ($5,500), a La Paola Peu floral headpiece ($175), and a Mandy Coon for Stone Fox Bride studded mini bunny-bag ($650). Guy noted that the look "is perfect for a high-fashion, downtown NYC wedding in a decadent ballroom filled with silver balloons, wild peonies and an aisle strewn with glitter."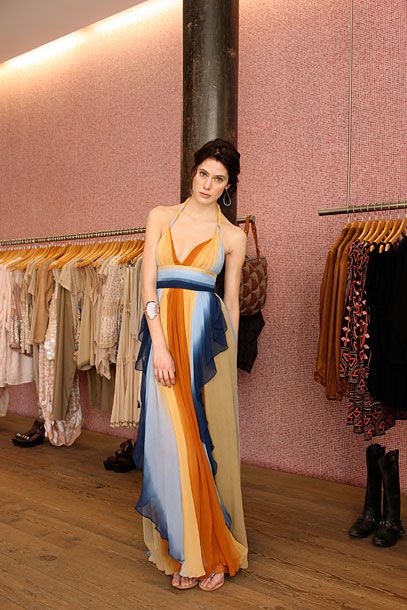 Calypso St. Barths
For a bridesmaid look befitting a "Bora Bora beach wedding," Calypso St. Barths vice-president Elisa Miller picked the Magda Dress ($450), which she said is "flowing, elegant, but looks amazing barefoot, dressed up or dressed down." The shades of blue in the teardrop hoop earrings ($45), Rocky cuff ($199), and navy Akon thongs ($225) pulled the looked together and fit the beachy color palette.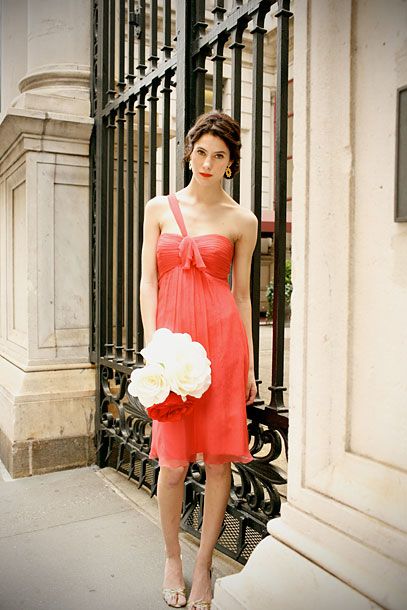 Wedding Library
For a more traditional, pretty bridesmaid outfit, Wedding Library's owner Claudia Hanlin chose an Amsale dress ($260) in an arresting coral color, perfect for a spring or summer wedding. She added Dana Michele for Wedding Library hoops ($125), which are detailed enough to be noticed without distracting from the dress, and comfortable Blue Tux gold wedges ($90).