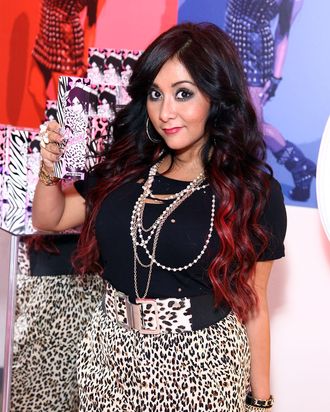 In a move that should surprise absolutely no one, Snooki announced today that she's adding children's and infants' lines to her slippers brand. The new products will be out this spring, giving her plenty of time to shill them with baby-bump photo ops. According to Happy Feet owner Pat Yates, whose company produces the slippers, Snooki has been "extremely particular" about the products. He tells Footwear News, "She didn't just sign and walk away. She's involved in every facet, from the website design to the slippers." They'll retail for $15 on her website, Snookislippers.com, because Yates says they haven't had much success with stores yet:
"We're trying to expand our overall retail footing," he said, "but her name hasn't [gained] retail traction yet. [Stores] don't believe it can appeal to the masses."
What?! The masses don't want to buy their babies fuzzy, iridescent, lace-up platform slippers endorsed by a reality TV star? Someone's numbers must be off here. In the meantime, bridal slippers of some kind are surely on the way.
Related: 
Video: Snooki Selling Perfume, Slippers, and Crocodile Plushies on HSN
Snooki-Branded Fashion Products Are Finally Upon Us!