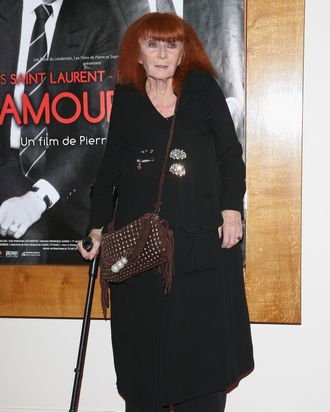 Sonia Rykiel.
Photo: Julien M. Hekimian/Getty Images
French designer Sonia Rykiel has confessed that she's been secretly suffering from Parkinson's disease for fifteen years. She co-wrote a book about the experience with author Judith Perrignon, titled N'oubliez Pas Que Je Joue ("Don't forget it's a game," or "Don't forget that I'm playing"), now out in France. So why did she keep her illness a secret for so long? "I don't want to show my pain. I resisted, I hesitated, I tried to be invisible, to pretend that nothing was wrong. It's impossible, it's not like me," she writes.
Rykiel's daughter Nathalie took over creative direction for Sonia's eponymous fashion label in 1995, although Sonia still attends the shows. She reveals in her book that her colleagues wouldn't let her be photographed with her cane. In a recent radio interview with French station RTL.fr, Perrignon says that the book's publication has been a great relief for Sonia, as she can now "go out and tremble without hiding herself" ("le but de ce livre c'est de pouvoir sortir et de trembler sans se cacher").