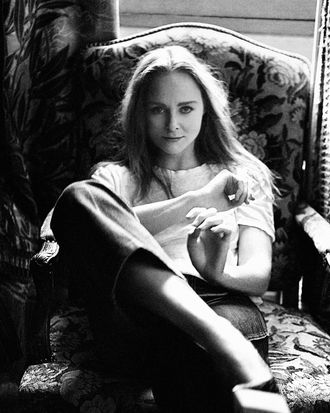 Stella McCartney talks to writer Tim Blanks in this month's issue of Interview about the difficulties of running an ethically minded business (it's just impossible to find good, organic, fair-trade Peruvian wool these days!), outfitting Team Great Britain for the Olympics, and the importance of family life — both growing up a child of the Beatles and raising her own kids with husband Alasdhair Willis. She reminisced about starting out as a designer, explaining how angry she was at first:
I was just younger and a little bit more irreverent, and I was quite "fuck you." You know, I was quite angry at the beginning of my life … I guess I felt the eyes … I just think it was the irreverence of youth, and I was just a London girl who was really trying not to pay too much attention to everyone else's issues … I probably didn't have permission to be a fashion designer because I had a famous set of parents, even though I'd done the exact same training as every other fashion designer I'd known … It probably looks great on paper, the fact that I was angry. But what's the right word for how I was? Maybe defensive is better.
Stella says she felt harshly judged by the fashion industry as early as her first show, which didn't go so well. Lately, even with things on the up-and-up, she tells Blanks that she only reads some of her reviews, a tradition passed down from her dad, Paul, who never read his. In fact, the McCartneys grew up without newspapers, and she never buys them now, as to not burst their "bubble."
McCARTNEY: You had moments when it was all in your face, and then most of the time it really wasn't part of the daily routine. It was just Dad's job. He would come home, he'd made a song, you would listen to it, you liked it, you didn't like it, it went on an album, the album got released, it pretty much charted instantly, we pretty much always saw him on the telly — it's just what happened. My dad jokes that when I was young we were in Scotland and he was on telly and I turned around and I'm like … [laughs] "you're Paul McCartney!" It was a bit weird. And I remember another time when I said to him, "Dad, put that song in the charts, make it go to number one," and he was like, "It doesn't work like that."

BLANKS: But was there ever a moment when you were into something else and he'd play his music and you'd be all, "Dad, that is so …"

McCARTNEY: Embarrassing? Yeah, but you know, the thing is, I've always had quite a high level of respect for my parents. Also, you'd listen to it so much that you just got it. It's like seeing the same dress every night. Your mom's a fashion designer and she brings home the same piece of knitwear, and so your opinion of something evens out because you're seeing the same jacket every day.
The article is illustrated with photographs of Stella's spring collection, including pictures of that dress, by Craig McDean.