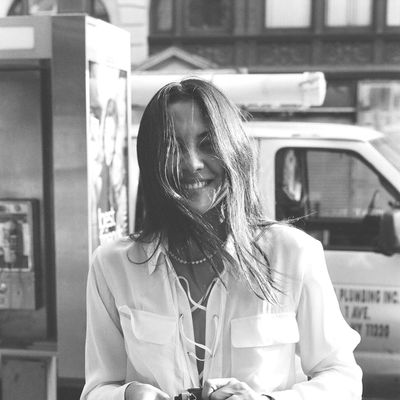 Photo by Maya Villiger.
Photo: Maya Villiger
Stevie Dance ended up in the fashion industry by accident. She majored in cinematography and journalism at Sydney University and always thought she would be a film critic. "I remember I was handing in my first article to this start-up magazine that was called Russh in Australia … and the fashion director screamed out, 'I need an assistant!' … and I was like, 'I'll be your assistant.'" She stayed at the magazine for five years, eventually becoming editor-in-chief, a position she held for a year until moving Stateside in 2010. Now she works as a contributing editor at Oyster and also as a freelance stylist — her latest gigs include projects for Vogue, Harper's Bazaar Australia, and V Magazine Spain.

Last week, Stevie returned to her journalism roots, launching an online 'zine called Shop Ghost, which features "Guest Ghosts" — industry insiders like photographers Tommy Ton and Emma Summerton — and "Ghost Gets," a curated roundup of products. For someone so deeply involved in fashion, she remains unbothered by the hype that surrounds the industry, especially now, thanks to social media and television ("I haven't owned a TV in over seven years," she tells The Cut). Instead, she calls Shop Ghost a "love project," a personal space that's "kind of unedited and … whole and pure." Read ahead to find out her take on street-style, what else she's working on, and why she calls her site the Jil Sander of the Internet.
Tell us about your website, Shop Ghost.
It launched last week. It's something I've been working on for a little while. And it just stems from the hobbies that I found myself and my friends [doing] … in terms of, like, online browsing, you know? I just felt like everybody I knew at some point [during] their day was browsing online, in an almost hobby way — it was almost like instead of going to take a coffee break, it almost becomes like a time-out. It felt unedited, and I wanted to create a platform, I guess, that was interesting and gave cultural meaning to the way you want to spend your money.
How long were you working on it before it went live?
It's been really quick, actually. It's super lo-fi. It's definitely a home project. It's got a sense of independent spirit to it. I think we started building it, like, mid–January, and what are we now, April? So, it was pretty fast … I love that about online. It really does feel like it has that 'zine culture. You can really just produce something and put it out there, and anybody can. I just think it's really exciting that everyone can self-publish. It means obviously, online is overflowing with content, but there's a sense of freedom to that, which I think is inspiring.
How often do you plan on posting stories?
I think we want to be posting a minimum of three posts a week. It's doable, right? … Three posts must sound so minimal to you. Like, Oh my god, what is this? It's like the Jil Sander of online! … [But], that's what we mean by, it's super organic … I'm not a news source. I don't need to inundate people.
A personal-style blog would have been an obvious choice for you. Why didn't you want to do something like that?
At the end of the day, my training is in journalism. I originally thought I was going to be a film critic — never something in fashion. But it's like, the idea at the source of it is to give people intentional reasons to invest in things. And I think that what other people have to say, and exploring other people's cultural habits and ethos and habitual shopping habits is far more interesting than what I'm wearing on a day-to-day basis … I think that the fashion can be secondary … I can inject my feelings into the site, but it's also about, I think, giving a platform to other people's ideas.
There's such an interest now in personal-style bloggers.
There is. I mean, I think the fashion industry and fashion itself has always been a really voyeuristic field. But I think in 2012 there's so much interest in "behind the scenes" on everything. You can't go a day without somebody Instagram-ing you a picture of something insignificant, and I think the fashion world has obviously taken that onboard. Personal style is interesting. I think when it's organic and it's really honest, it's amazing. It's a great source of inspiration for people, the way they use different ingredients to express themselves. I think at the moment, street-style has become quite editorial-based. It feels really editorial.
Do your ideas for "Ghost Gets" come from the shoots you do for Oyster or other publications?
I don't know, I think that just comes from being someone who lives in a city and kind of has their eyes always open. It's things I'm inspired by, things that I've worked with, sometimes it's things that I've shot and I've been like, "God, I need to have that" — let alone, I'm sure, half the people I know would love to know about it. It's things that I think could be inspiring in an editorial way. Things I think could be inspiring to own, to use, to love. It's kind of all of those things.
"Guest Ghost" Tommy Ton talked about the amount of money that he spends on clothes. Do you worry about how people will take that information?
No. I mean, I think that people can spin it out of context and make it tricky, and I think that there's also just a genuine transmitting of information about the way different people express themselves through fashion. And sometimes you buy it, sometimes you borrow it, sometimes you spend too much, sometimes you get it for a steal. I think there's a story in all of that. I think if you come at it from a level of pure interest, that it can be intriguing and endearing and exciting and inspiring.
What other projects do you have going on?
This is kind of it! Well, I'm writing a film. But that's my love — my real love love project.
How long have you been working on it?
Um, probably a year.
Are you submitting it to anyone?
Oh my god, it's still in a shredded notebook full of, I don't know, scratches on it. It's still very much just within my head. I think Shop Ghost is going to keep me really busy, plus my other work.
Do you have a dream for the future of Shop Ghost?
Oh my god, no. I think even to have this space is great. That's the dream for me, to have a space that's kind of unedited and is kind of whole and pure. It's really nice.