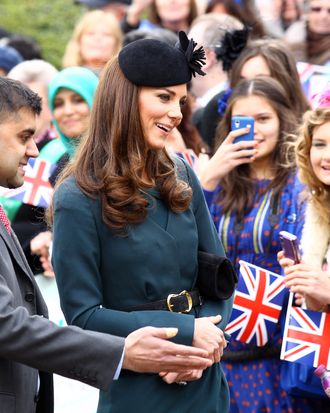 Surely, you jest.
Photo: Matt Cardy/Getty Images
It seems as though anyone with a camera, or camera phone, would seize the opportunity to snap a picture of Kate Middleton, with one exception: Ashlin, the Kate Middleton Fanatic Who Saw Her Shopping at Topshop and Then Did Not Feel Alive. (Her boyfriend left their camera in their hotel room, so it's totally understandable.) Well, add another name to that short list: Vogue and Vanity Fair photographer Terry O'Neill. When asked if he'd be interested in taking the Duchess of Cambridge's portrait, he answered, "Kate? Nah — I don't think so. Why not? Because I don't fancy her." For the record, that's not a "no," that's a "nah."
"I mean that poor girl, Kate …" he says with the shake of a head. "What's going to happen to her? Hopefully William will be king and she'll be a new breed … And she does seem very together, but, well …" he shrugs, dismissing the Duchess in two quiet words: "Too thin."
O'Neill thinks there's a "blandness to today's famous faces," specifically those called Kate. Later in his interview with the Telegraph, he hones in on Moss.
"The supermodels were the last great girls, and Kate Moss only just scraped in under the wire." O'Neill is underwhelmed by the Croydon-born model. "I never rated her — Kate only endured because she was associated with those supermodels. I mean, Jean [Shrimpton] was the best of all the English models and sadly it ended there. God …" O'Neill chuckles. "I dropped such a terrible clanger with her."
Yuckies.