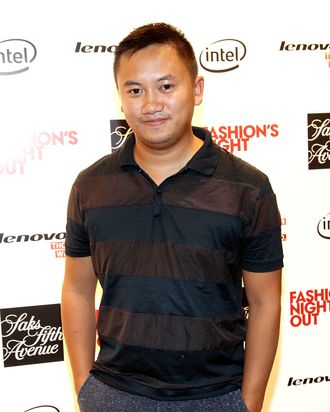 Tommy Ton.
Photo: Steve Mack/2011 Getty Images
It must be tough to photograph pretty outfits all the livelong day and not splurge on a milli different treats upon returning home to a laptop. Along those lines, Jak & Jil founder Tommy Ton confessed to Shop Ghost that his "habit of obtaining too many things" spiraled out of control over the past year:
I actually spent the average person's salary on clothes, which is kind of frightening. I have not regretted anything, but it got to the point where I couldn't go a day without ordering something online … I couldn't fall asleep one night after the shows, so I was scrounging online to find something to calm myself down. I bought a jacket, which cost me $2,900 including customs and duties, and I was like, 'now I can calm down,' and that was at seven in the morning!
Possibly part of the problem: Tommy shops while pretending that he's "someone like Vanessa Traina." It's best to set realistic expectations — cutouts and ruching aren't for everyone. He also shared some thoughts on what he'd like to see from ladies he shoots on the street, specifically: "more girls wearing glasses — like their actual reading glasses" and "more women tak[ing] children out." That, friend, is not Traina territory.