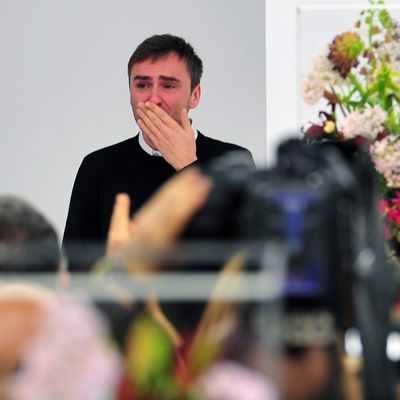 Raf Simons's tearful final bow at Jil Sander.
Photo: GIUSEPPE CACACE/AFP/Getty Images
Raf Simons has been confirmed for Dior, ending more than a year of feverish speculation from the fashion industry, but a number of questions about his appointment remain unanswered. Dior explained precious little about it in a brief statement yesterday, which didn't really say much aside from the requisite fawning over Simons's talent and Dior's legacy. 
But was Simons's dismissal from Jil Sander at the end of February just a cloak and dagger charade for his move to Dior? Neither Jil Sander nor Simons ever technically confirmed that he'd been forced out, although the Times' Cathy Horyn states it as fact, writing yesterday that Simons "was fired shortly before the [fall 2012] show, replaced by the brand's founder." Since Horyn, an outspoken fan of Simons, broke the news of his Dior appointment and got an exclusive interview with him yesterday, her word on the matter can certainly be trusted. It's likely that the Jil Sander shuffle was indeed related to Dior in some way, but the details remains unclear.
Meanwhile, both Horyn and WWD confirm that Simons was considered as a replacement for Stefano Pilati at PPR–owned Yves Saint Laurent. As we all know, the spot went to Hedi Slimane at the beginning of March. Dior's parent company, LVMH, reportedly saw Slimane at YSL as competition for their own brands and wanted to bring in a similarly regarded name, particularly one with the kind of modern repute that Simons garnered during his tenure at Sander.
And of course, there were also rumors about designer Maxime Simoens being considered for the Dior spot, particularly after dealings between Dior and Simons seemed to stall around Christmas. In any case, what exactly happened between Dior, Simons, and all of the other players involved during the past six months is still a mystery, but surely more information will come to light in time.