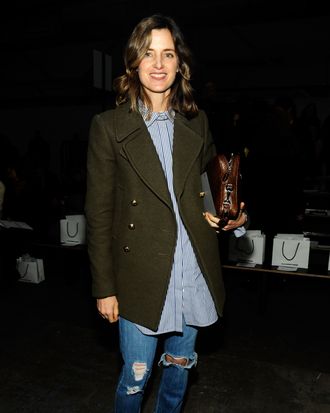 Amanda Brooks.
Photo: Rabbani and Solimene Photography/Getty Images
Amanda Brooks resigned from her job as vice-president and fashion director for Barneys New York in mid-March to move to England "in the interest of further pursuing other opportunities." Now Brooks has resurfaced on the Interwebs with a pair of posts (so far) on her site, I Love Your Style. She initially explains what she's up to:
So, recently my family and I made the decision to spend a year on our farm in Oxfordshire, England. I am calling it my "creative sabbatical." First on my agenda? To get my blog and up and running again. I also have ambitious writing plans for the next year, and you all will be the first to know about them as they unfold.
She also shares pictures of her "future dwelling" and promises she'll type more about it when she moves in next month. Post number two is about designer collaborations — no, not Alberta Ferretti for Macy's or Marni for H&M. Brooks thinks it's time for designers to work with other designers:
Its been done before in small ways (see below — I have a printed Alaia t-shirt made by Comme Des Garcons), but I'd like to see it in a bigger way. Come on Rick Owens + Lanvin! Proenza + Junya Watanabe! Christopher Kane + Narciso Rodriguez! Get it on!
Hey, we wouldn't not watch. Or not buy it.