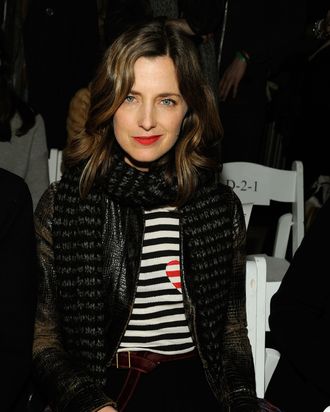 Amanda Brooks.
Photo: Rabbani and Solimene Photography/2012 Getty Images
Before Amanda Brooks takes off for England (turns out she's been stealthily blogging Stateside this entire time!), the former vice-president and fashion director for Barneys New York lunched with the Times, and talked about the reasons behind her decision to leave her job back in March to pursue a "creative sabbatical" overseas.
"It was because of Ree Drummond's blog, The Pioneer Woman," said Ms. Brooks, who has recently returned to a blog, ILoveYourStyle.com, that she started after publishing the 2009 book, which had the same name. Reading a New Yorker profile last year of Ms. Drummond, a mother of four who lives on a cattle ranch outside Pawhuska, Okla., and posts prolifically on subjects like how to make cornmeal pancakes (using catchphrases like "yahoo, yippety") "got me really fired up," Ms. Brooks went on. "It's the idea of having a career on your own terms, anywhere."
Brooks alludes to her career not being on her own terms at Barneys, noting that she lost a lot of weight during her brief tenure owing to the long days and traveling. Then again, Barneys was in a somewhat precarious position until the beginning of May, when Perry Capital became the majority owner of the company.
Along with the blog posts — which will be about style (of course), life down on the farm, and cheesier topics like cheese-plate arrangement — Brooks plans to work on a second book, "which will focus on stories of inspiration and influence over her 20-plus years in the fashion business," the Times adds. She said, "I've spent my entire career devoted to the vision of others. This year away is for introspection. For myself." Yahoo, yippety!