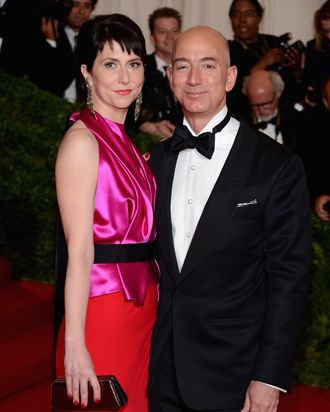 Mackenzie Bezos, Jeff Bezos, and the pocket square.
Photo: Dimitrios Kambouris/Getty Images
Best known for its relentless product recommendations and percentage off the retail price, Amazon is stepping up its fashion game. The e-commerce company already owns Zappos.com, Endless.com, Shopbop.com, and MyHabit.com. But as of late, Amazon has brought on countless high-end labels, like Michael Kors, Vivienne Westwood, and Jack Spade, enlisted more reviewers, is adding 3,000 photographs daily to its databases, and "happily [loses] hundreds of millions of dollars a year on free shipping … to keep its shoppers coming back."
Writes the Times:
Amazon's decision to go after high fashion is about plain economics. Because Amazon's costs are about the same whether it is shipping a $10 book or a $1,000 skirt, "gross profit dollars per unit will be much higher on a fashion item," [CEO Jeff Bezos] said, and it already makes money on fashion. While its MyHabit site, started last year, uses a flash-sale model to compete with Gilt Groupe, Mr. Bezos says the company's new effort is not about selling clothes at deep discounts but at prices that ensure that "the designer brands are happy."
But are the brands happy? Does Amazon have the fashion industry's blessing? Of last night's Costume Institute Gala, the Times adds:
Mr. Bezos, the event's honorary chairman, said that he was advised by Anna Wintour, Vogue's editor, to wear a pocket square with his Tom Ford tuxedo (which is not available on Amazon). He did so.
Amen.