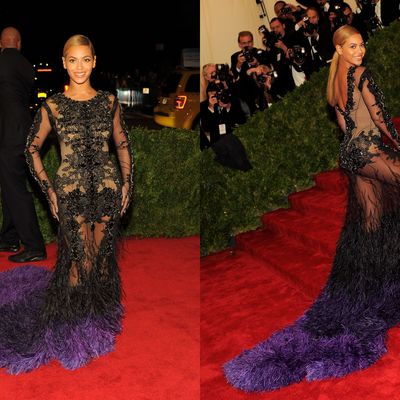 Beyoncé, better late than never.
Photo: Larry Busacca/Getty Images
Beyoncé was late for this year's Met Gala, but of course no one minded because (a) she can do whatever she wants, and (b) the red carpet was empty at that point, so all the photographers could get a nice, clear shot of her derriere when she walked up the museum steps in her sheer Givenchy gown. But according to André Leon Talley, she apparently wasn't planning to come at all. Talley explained the situation when he gave a talk this weekend at Savannah College of Art and Design (SCAD) with Ralph Rucci and Newsweek's Robin Givhan, according to Fashionista:
Beyoncé was not slated to come. She decided to come last minute when the dress [which he later said took 350 hours to sew] arrived at her house. She tried it on and then she said, "okay, I have to come." She did arrive at 8:55 and the ball had already started but it didn't matter because she is Beyoncé.
Naturally, since they were discussing the Met Gala, the conversation turned to Kim Kardashian, who somehow manages to affect events she doesn't even attend:
André Leon Talley: What's shocking to me is how important the red carpet is. At one point I thought it was ruining [fashion] but I don't think that anymore. I don't think any celebrity can take away from fashion. Not even Kim Kardashian could take away from fashion … Though, of course, Kim Kardashian didn't come [to the] Met Ball but Kanye West did …

Robin Givhan: So would you ever dress Kim Kardashian?

Ralph Rucci: No, I think that's bastardizing yourself [as a designer].
Of course, Talley was too savvy to say more on the matter, but he was wearing a festive red cloak, so let's put all of this behind us, shall we?