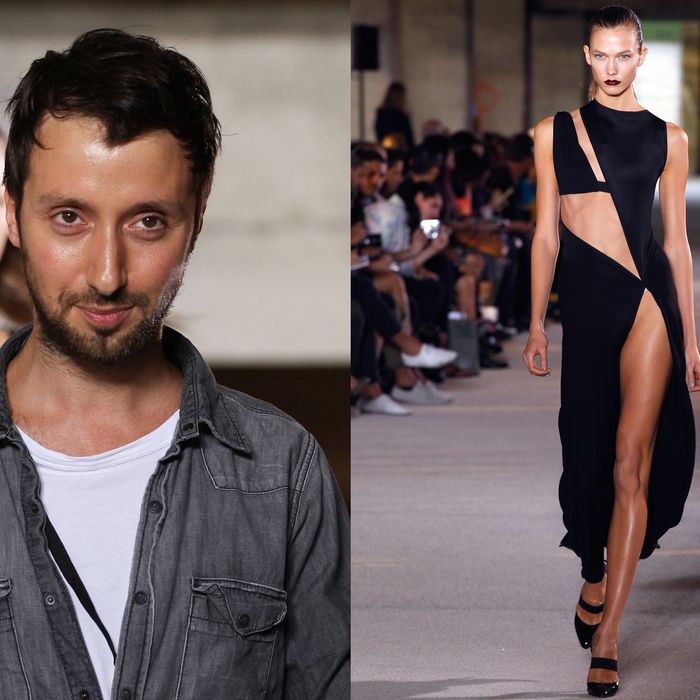 Anthony Vaccarello; Karlie Kloss walking in his spring 2012 show.
Photo: From left: Richard Bord/Getty Images, RANCOIS GUILLOT/AFP/Getty Images
Anthony Vaccarello, with the help of his muses, has given the fashion industry major whiplash with his head-turning, slit-up-to-there dresses. The 32-year-old Belgian-born designer (with Italian parents, if you're wondering about his last name) graduated from La Cambre in 2006 and was quickly scooped up by Karl Lagerfeld to work on furs at Fendi. Two years later, Vaccarello went out on his own, presenting a capsule collection of miniskirts in the windows of the Maria Luisa boutique in Paris, which led to a photo shoot with Lou Doillon for winter 2010 and a full-scale runway show for spring 2011. Last year, he took home the Association Nationale pour le Développement des Arts de la Mode fashion prize, or the ANDAM — Europe's version of the CFDA Awards. Now he's moved both his atelier and apartment into the same building (albeit on two different floors) in Paris's Marais neighborhood, explaining, "For me, work and life is together. You cannot separate it properly, especially now. Maybe in the future, I can separate it, but now, work is really part of me." We phoned Vaccarello earlier this week to discuss one of his early, porn-star-inspired collections, his friendship with Karlie Kloss, and how he avoids any wardrobe malfunctions with those dramatic, high-cut slits.
To start, what you were like as a child, and how did you know you wanted to go into fashion design?
I always liked to draw and liked fashion and liked to be surrounded by women, but I didn't know that it would exactly lead to a job, because for me it was more like a dream than something you can do. It was more like, you could have a real job and then make some dresses [on the side]. But then I realized it could be a job, and in 2000, I began to study at La Cambre in Brussels … I've always liked Ann Demeulemeester, or Gianni Versace. [My designs are] always a mix between something very structured and very dark, very controlled, like Demeulemeester, and something more sexy, more easy, more fresh, like Gianni in the early nineties.
Your first major collection after college, which you presented at France's Hyères Festival, was inspired by the porn star La Cicciolina. Why does sexiness or sex appeal speak to you?
La Cicciolina, for that collection, it was not about the sexy side of her, but of course there's the whole image surrounding her. Even now, when I design, I'm not trying to find the urge to make a sexy dress or something. With La Cicciolina, for example, I imagined her reaching to her boyfriend, and it's all about her hair growing into the clothes, so that's the main inspiration of that collection, but it's not about her sexual appeal or something like that. It was more about her hair, and the time that goes by, and all that kind of stuff, which is more Belgian than Italian, I guess. [Laughs.]
From there, you went on to design furs at Fendi. What was that like?
It was great because it was my first job. I just finished school — I didn't have to apply for a job, they just called me when I finished, and it was great going to Italy, to Rome, working with Karl [Lagefeld] for two years … He came to the studio and we talked together, thought about ideas for fur — not every day, but sometimes. It was very strange talking to him and working with him, because you just grow [up] thinking about him and then you see him, and you're talking to someone very famous, and you just can't think about that and move on. It's kind of strange, but it's funny at the same time.
Then you left to start your own line. How does your design process work? Where do you get your ideas?
I always try to imagine the woman that I want to dress. I try to ask myself, What does she want to wear? Where can she wear it? So the main process is making a story about her, and then I do some draping, and I love to work with my hand on the mannequins on the bust with fabrics and find some lines, find some way with the fabrics. And then when I've got the idea, I can design pieces. But I never design first. I prefer to work directly on the body before developing pieces.
Who is the woman you want to dress?
I design for a strong woman, that's very confident of herself. I design for friends, like Lou Doillon … It's a woman that can be a mother, she can work; it's a woman that is strong, that has no fear about what people can say and who dresses for herself, mostly.
Since you're so shy, tell me about how you've enlisted all of these supporters, starting with Lou.
Well, I think women like shy guys, right? But we met at the dinner, through [Laetitia] Crahay, she is a jewelry designer at Chanel. And we just fell in love, I want to say, and [Laetitia] Crahay already told her about my work, so she knew what I did before, and we just decided to do a shoot the day after the dinner. And it would just be like that — with no makeup, no Photoshop, nothing, like, in the streets, in the garage. And I really loved the pictures; she loved them also, and she told me, "Okay, let's publish it." It was for winter 2010. And since then our relationship is — we've become very close. I always ask her for advice about what I do — would she like it? If she would she wear it.
And another person who's been your champion is Karlie Kloss.
She's amazing. We met at dinner, also. We have a friend in common, and so I met [Karlie], and she knew that I won the ANDAM prize. We just talked, and she told me that she wanted to do my show, which was amazing because supermodels never do that for young designers. So things are going like that: very simply. I guess I am very lucky because things came very randomly without anyone being pushy. It's always been like that.
Was that why she skipped the other fashion weeks — so she could open your show?
No, it was something else. She didn't do it only for me. I think she took some vacations beforehand, but it was perfect.
Aside from Karlie opening your fall show, people were also talking about the model who fell. Is that a designer's worst nightmare? Or do you just brush it off?
It was sad for her because it was her first show. She was young, it was her first show, and she told me after that she was stressed because she saw all the supermodels around her, the catwalk was very, very long, and she had a cramp in her foot. And I was very sad for her, but I was not angry at all. No, no, no. We liked Pauline — her name is Pauline. And I think after that she had a few great shows, like Miu Miu. It was not the end of her career.
More recently, you've dressed Anja Rubik for the Met Gala and Lily Donaldson at the amfAR Gala in Cannes. What's that like?
Oh, it is such an honor for me because they have the perfect bodies for this type of dress. If they couldn't wear them, I don't know who could wear it.
How much wardrobe tape does it take to keep on those high-slit dresses? Or what goes on underneath them?
Ah, that's the big question that everyone asks me. The dress is not a slit — it's more about the construction, it's like a jumpsuit dress. It's a dress, but it's also like pants. It's a slit, but the leg is outside through a hole. It's more than just a simple slit.
Do you think that one day you would ever consider going back to a big fashion house?
For the moment, I don't think about things like that because I'm more worried about growing my own brand and growing the business, so not tomorrow, but maybe, yes, one day. 
Would you do a fast-fashion collaboration, like with H&M?
I did something with Anja — she was modeling for La Redoute, a French brand of fast fashion. We did it last year. It was five pieces all in white, and the dresses were around 100 euros. It was only in Europe and Russia, not in America. But I really like the idea of making collaborations like that. I think it's good.
So, what's next for you?
The show in September. I'm still working on that — I'm not sure about how it will look. But I think it will be a continuation of what I did last season. I don't like when you change your image every season. I like the continuity. You tell the same stories, just you add something new, you know. Something like that.