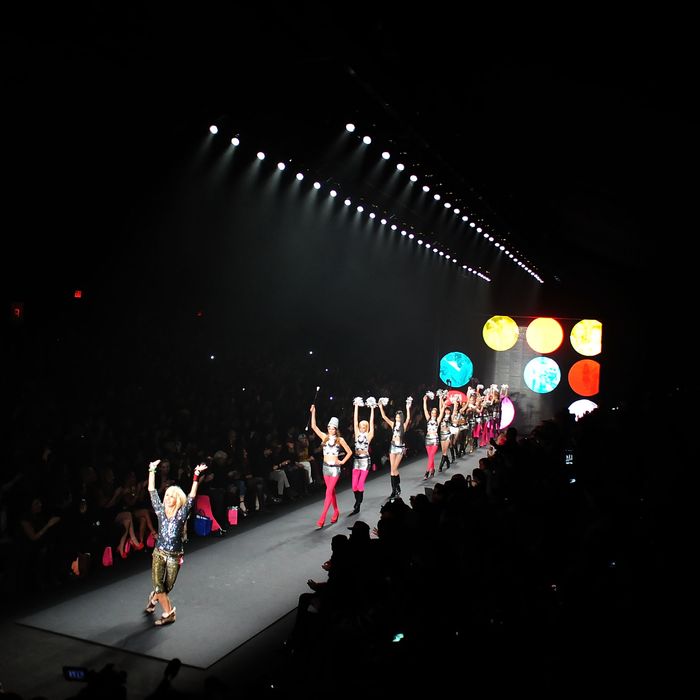 Betsey Johnson.
Photo: Karl Walter/2012 Getty Images
More depressing Betsey news: Betsey Johnson executives got approval from a bankruptcy judge yesterday to start liquidating the company's assets. The liquidation process will be run by Gordon Brothers Group Inc. and Hilco Merchang Resources, who bid $5.2 million for all the assets to be sold (the company owes at least $6.8 million to creditors, according to The Wall Street Journal). As previously reported, the company will close almost all of its 69 boutiques, so the liquidation sales will include merchandise as well as store fixtures like clothing racks, lighting, and other furniture. So, if you've ever wanted a good deal on hot pink couch or sparkly shelving, apparently now's the time.
If it's any consolation for us Betsey-lovers (we can't say we've ever bought her clothes, but she and her shows are just so much fun), apparently a few pieces of the brand will survive. Shoe tycoon Steve Madden, who bought the label from Betsey Johnson in 2007, says that he plans to keep selling the brand's more affordable offerings at department stores, and he'll reportedly keep a few boutiques open in major cities like New York. Meanwhile, Johnson herself will stay on as the label's designer, and a few members of the brand's former staff of about 400 will get to keep their jobs. Either way, it's still a sad end for a fabulous era.