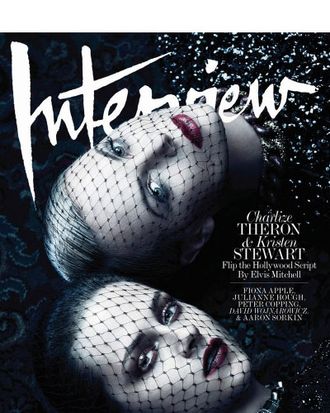 Charlize Theron and Kristen Stewart on the cover of Interview.
Photo: Interview
Charlize Theron and Kristen Stewart cover the latest Interview in vintage netted veils and dark lipstick, in keeping with their vampy Snow White and the Huntsman personae. In the corresponding story, Theron says a bunch of interesting things about how she's attracted to playing characters that "society … gives up on" and that there's a dearth of those roles for women. That part's worth a read, but of course, because she's a beautiful actress and people want to hear about her face, Theron also talks about the eventual possibility of getting plastic surgery. She says she can't picture it for now, but in her mid-sixties, she might feel differently.
I'm also now in my mid-thirties, so I look in the mirror and my face is changing, and I have a different relationship all of a sudden with myself. Your face changes, things change — that's just kind of what happens. [laughs] It's hard, though, in this industry, because I think so much importance is put on how you look, and I'm not brave enough to be like, "You know what? I'm just going to let it happen. Whatever. I'm so cool with every line on my face." There are days when I definitely look in the mirror and go, "All right, I need to find a cream." I can't foresee myself ever going under the knife, but then again, I'm only in my mid-thirties. Maybe it's different when you're in your mid-sixties. I don't know, so I don't want to make statements about where I'm gonna be in 30 years. But as of right now, I definitely have a different relationship with the way I look. It's not all-consuming. But I'm also human so I have days when I look in the mirror and go, "All right … Things are definitely changing." I can see that.
But, like so many beautiful women who say they're at peace with the prospect of aging gracefully, she says her upbringing taught her to feel self-worth from her actions:
I'm so grateful that I was raised by a mother who really instilled in me that my moral compass and achievements all had to come from a real place that had nothing to do with my beauty or how I looked. That was very big for her.
This is all well and good, and bravo to Theron's mother for being a positive influence, but doesn't it always seem slightly comical when gorgeous women say that their achievements and self-esteem are totally separate from their looks? Either way, it's commendable that Theron can articulate her conflicting feelings about the pressure to preserve her beauty.