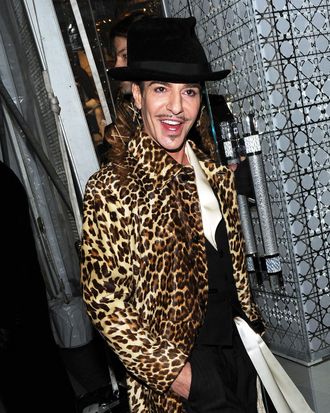 Could it be?
Photo: Jason Kempin/Getty Images
Lots of people in the fashion industry and beyond would love to see Galliano hired for Diego Della Valle's revival of Schiaparelli, and rumors about his potential appointment started earlier this week. But when the Times' Cathy Horyn questioned Della Valle about it, he refused to play ball:
Asked if he might consider John Galliano, Mr. Della Valle pulled a good poker face. There have been rumors, he said: "One week it's Galliano, the next it's someone else." He expects to hire someone by September. Finding someone with the skill for Schiaparelli is hard enough, but many designers are used to perks and big budgets, and these don't seem things they will find in a brand trying to create a new experience.
It's true that this job wouldn't afford Galliano the perks he got at Dior, but it would certainly be better than unemployment, no? This would also be a good way for him to get back in the game without returning to the demanding schedule that drove him off the deep end to begin with (Della Valle has said that Schiaparelli will only produce two collections per year). But are luxury consumers truly ready for Galliano's comeback?