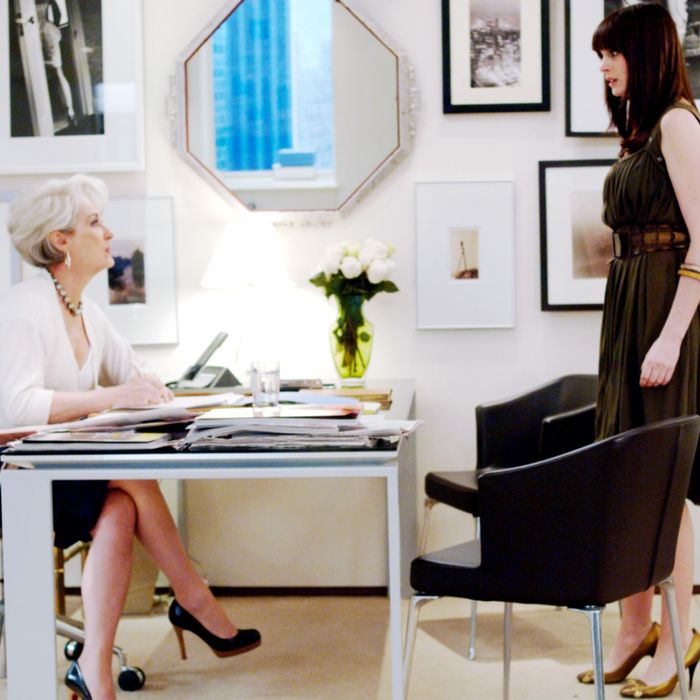 Miranda Priestly and Andrea Sachs, Part 2.
Photo: 20th Century Fox Film Corp./Everett Collection
Just as bringing up Miranda Priestly in interviews with Anna Wintour was getting way beyond tiresome, former Vogue assistant turned author Lauren Weisberger announced that she's working on a sequel to her "fictional" best seller The Devil Wears Prada. She's written a few other chick-lit novels in the interim, including Everyone Worth Knowing (2005) and Chasing Harry Winston (2008), but this is her first time returning to the cast of characters at Runway magazine. EW reports that her new book will be titled Revenge Wears Prada: The Devil Returns and is slated for release by Simon & Schuster in April 2013 — ten years after the first book came out.
According to EW, the sequel picks up eight years after Andrea Sachs tossed her Nokia flip phone into that fountain in Paris and strode joyfully out of Miranda Priestly's life. Now Andy's editing The Plunge, a magazine, along with her former co-worker, the cheese-cube-dieting Emily (Emily Blunt!). She's apparently dumped sweet Nate once and for all and is engaged to some "social media scion" named Max (wedding planning!). Anyway, the New York media world is small — tell us about it — so she winds up in Miranda Priestly's crosshairs again … dun dun dun. So, when's the next movie coming out?