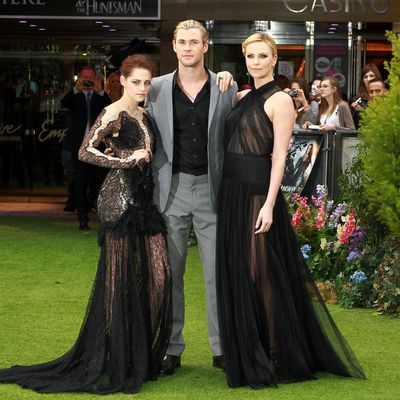 Kristen Stewart, Chris Hemsworth, and Charlize Theron.
Photo: Fred Duval/FilmMagic
Most movie stars probably plan ahead to make sure their outfits don't clash with one another's for red-carpet events. But it's rare that they actually match, as Kristen Stewart and Charlize Theron did in their black, sheer dresses at today's world premiere in London for their new movie, Snow White and the Huntsman. Kristen's Marchesa gown is long-sleeved, lacey, and features lots of ornate detailing, particularly in her bellybutton area. Meanwhile, Charlize's Christian Dior dress was simpler and sleeveless. Because everyone loves a gown-off (really, they're just asking for it), which do you prefer? Oh, and Chris Hemsworth looks nice, doesn't he?