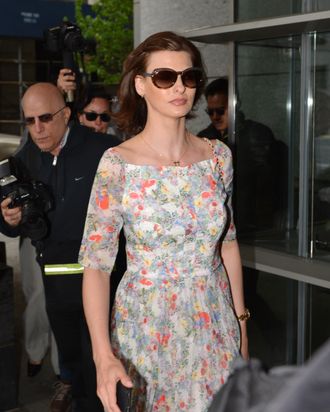 Linda Evangelista.
Photo: STAN HONDA/AFP/GettyImages
After enjoying each other's company last week in Manhattan Family Court, Linda Evangelista and François-Henri Pinault settled their $46,000 a month child-support case over the phone this morning, the New York Post reports.
The exact monthly settlement was not disclosed by the source, who wished to remain anonymous. But the timing suggests Pinault has cried "uncle" on the verge of Evangelista testifying before American and European press about his and Evangelista's whirlwind 2005 romance, his reluctance to raise the resulting child, and the eventual discords over visits and money.
As a result, Evangelista didn't have to complete her testimony or speak of such "touchy topics as Francois-Henri Pinault's initial wish that the baby be aborted," the Post tastefully reminds us. Both sides were in court today to apprise the judge of the deal, and they'll return tomorrow to have it put into writing.