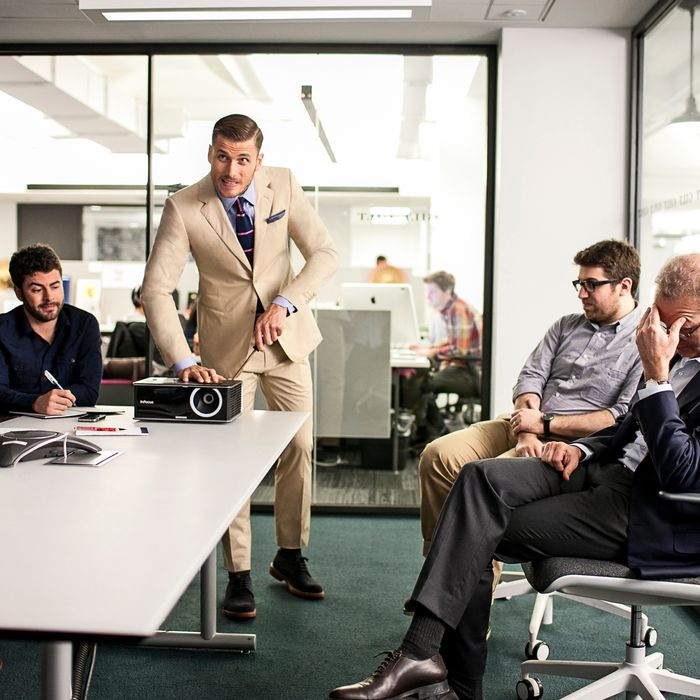 Photo: Courtesy of Gilt MAN/Park & Bond
Park & Bond, Gilt Man's high-end menswear site, used Gilt Groupe's brand-new corporate offices at 2 Park Avenue as the backdrop for its latest editorial, titled "All in a Day's Work." The model, Philippe LeBond (DNA), is portrayed as an actual Gilt employee doing normal things like going to meetings and shoving complimentary food into his face while standing in their shiny, state-of-the-art kitchen — all while looking handsome in his polka-dot ties and slim-cut jackets (as all normal Gilt Man employees do, surely). We can't help but think of how such an editorial would work in our own office. You see, instead of fancy skull-and-crossbones wallpaper in our conference rooms, we have plain, white walls and unflattering fluorescent lighting — all the better to make us go cross-eyed during meetings. As for glassware in the kitchen — well, we have plastic mini-cups next to the water cooler? Enjoy this slideshow and revel in the inadequacy of your own workplace.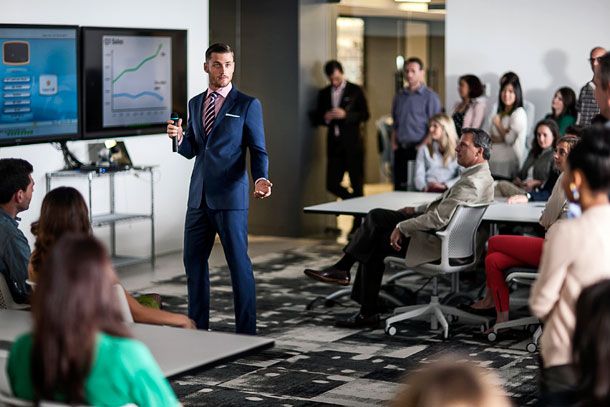 All Hands
This shows the model at the company's biweekly "all hands" meeting, which are awkward and tiresome no matter how nice the carpeting is. And see — even the fanciest offices don't have enough seating for everybody.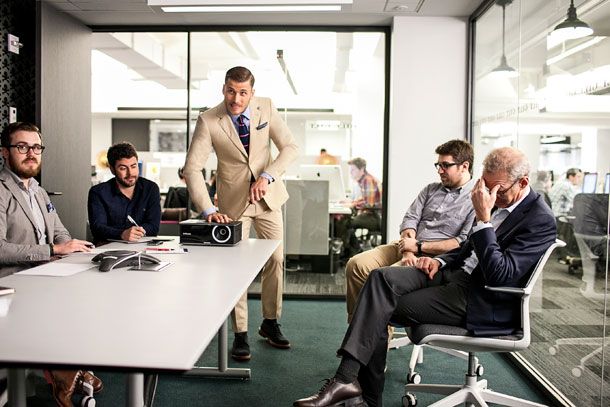 Conference Room
Phew, their projectors don't work either. But that velvety wallpaper probably makes for soothing acoustics.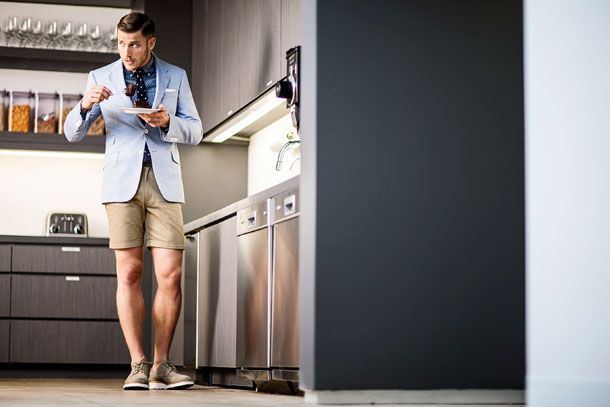 Lunch
At first we thought he was eating a hunk of steak (how manly!), but upon closer inspection, it appears to be chocolate cake. Whatever — at least it's free, along with the Cheez-Its and other delicious-looking cracker items in the jars behind him. You know they totally class up their snacks by carrying them back to their desks in those nice wine glasses on the shelf.