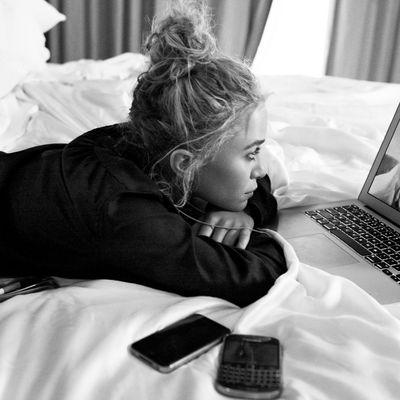 Each year, the CFDA commissions a top-notch team to create the CFDA journal, a program given to guests at the organization's annual awards show. Art director Trey Laird has helmed the project for the past five years, working with various celebrated fashion photographers to create portraits of all the nominees along with images their designs. For the 2012 program, Laird collaborated with photographer Craig McDean to set the shoot on the streets of New York City. The end result, titled A New York Portfolio, shows the designers and their clothes in various places around Manhattan and Brooklyn: Phillip Lim on a basketball court, Reed Krakoff at Gleason's boxing gym in Brooklyn, and Garance Doré and Scott Schuman on top of a double-decker bus in Times Square. We talked to Laird about the project and what it was like to shoot each subject; you can see a preview of the 2012 journal in our slideshow.
What kind of guidelines does the CFDA give you about the catalogue?
I've been working on these the last few years for Diane von Furstenberg, and every year she asks me to come up with an interesting way to do this. It's really quite open, and there's something inspiring about somebody giving me that freedom. I've done it once before with [photographer Craig McDean]. We've always done things in a studio, and so this time we really wanted to have a new take on it and make it looser and freer and more our style. So we took people out on the streets of New York City. I think that really challenged Craig as a photographer, to get him out of the studio, and he really enjoyed that type of shooting. I think the people felt really comfortable too. It was really spontaneous and loose, and I think we got really good results because of that.

Was there a specific style or inspiration you were going for?
Craig found this old Duane Michals book of black-and-white portraits that he shot in the seventies. That New York street photography that captured the grit of the city and the people in it was a big inspiration for him. He brought me that book, and it really helped me come up with ideas too.

Did all the designers choose what they were going to wear in the portraits?
Most of them. Vanessa Chow helped with the styling, and for the most part we called in advance and said, "We're going to do pictures around the city. Bring a couple of different [wardrobe] options that really feel like you." We tried to not change them; we wanted them to capture their own personal style. We didn't want to transform everybody, and we wanted people to look like themselves. In the past, we've done some things like have Jason Wu wear a dress, and we did a portrait of Marc a couple years ago when he got nominated for accessories designer, and we put a bag on his head. So we've done some things in the past where we've asked people to do all sorts of things, but this was about being as natural as possible. It's almost like documentary style.

What made that seem timely this year?
I just feel like there's such an incredible energy in New York around the design community, and I think it's been building for several years. There's so much support for new designers. I think [New York] is in a really good place creatively, so there was something nice about including the city in the mix. Almost everyone is based here.

These are all people who usually work behind the scenes, not in front of the lens. How do you get them to feel comfortable with the camera?
In a couple different ways. Craig and I work a lot together, and so I think we trust each other, and that put everyone at ease. I think people really, quite frankly, trusted us, which we really appreciated, and as a result, we were able to make them feel really good and look really good. We also tried hard to make everyone really comfortable. We tried to make it not stressful and exciting. It's really great to get nominated for a CFDA award, and it's really great to get your portrait made by Craig McDean, so you know, there are worse things in life! If you get in that mindset rather than thinking, Ugh I hate having my picture made, oh another thing to do, then you get a great experience. And most everybody was totally that way. Most people were really appreciative that we had thought about things.

Was there anyone who objected to your suggestion and wanted to do something different?
No, everybody was actually pretty good. We were going to take Marc on the subway and ride around on the subway with him, and they just said, "Marc doesn't ride the subway." [Laughs.] But they were totally open with other ideas. The minute we suggested Scott [Campbell]'s place, they were like, "Great, that sounds perfect." In the past, we've always had one or two divas, but this year everyone was really into it.

Did you shoot the nominees' designs as well?
Yes, for each category we did models wearing the nominated designers' clothes, and we shot those around New York City as well. There's one where we shot three guy models wearing the nominees' clothes for best new men's designer. So it's Ian Mellencamp in Phillip [Lim]'s clothes and two other guys, and we had them literally line up behind this falafel cart outside the Port Authority. You know, it's just chaos there on 42nd Street, with commuters and tourists, and there was this line of just New York pedestrians at the falafel cart, so our guys kind of walk up, and they're in these full on fashion looks, and there's this other guys standing there with his Yankees hat on and big baggy jeans and his headphones, and he was just ordering a falafel.

Was it difficult to direct people who aren't models?
Yeah, these [designers] aren't celebrities. They're known people, in many cases, but they're not actors or anything, and being photographed can be intimidating for them. There's also something intimidating about doing it in a big photo studio. You're standing in front of all these lights. But when Craig McDean's with a loose camera and saying, "Hey Joseph, let's go walk around the block. I'm gonna shoot you while we're walking and talking to that other guy," or, "Hey Alex, lean up against that chain link fence. That looks really cool."

Any other exciting upcoming projects?
Oh my gosh, I've got a lot. I just finished a whole slew of new ad campaigns. We just shot a new Tommy Hilfiger campaign, which we've been doing the last few seasons. We just got a new campaign for Belstaff, which is being relaunched, and we're doing a lot of work with Karl Lagerfeld — we just did a big shoot with Karl a couple weeks ago, for his new Karl line. Karl shot it himself, and it was really, really great. We also just did the first major ad campaign for rag & bone, which is coming out in September.
We then asked Laird about shooting specific nominees.
On Johnny Depp:
That was another challenge. He was in Arizona filming Lone Ranger, and we obviously couldn't go to Arizona. I didn't want to do a bunch of headshots or something — I wanted an image that felt like in the spirit of what we were doing. I'd seen this picture that I loved, this old picture of this girl from the seventies reading a newspaper at a newsstand. You know how Johnny Depp's always on six magazine covers at once, like Us Weekly or whatever? This great guy who we work with a lot, Piers Hanmer, who does props — he went on eBay and found tons of Johnny Depp newspapers and magazines and that kind of thing. And then I asked Arizona Muse to come and hang out at a newsstand and read about Johnny. So Vanessa [Chow] put Arizona in a Patrik Ervell men's suit and we found this cool newsstand and Craig plopped her down. There's all these stacks of Johnny Depp on the cover of the Post, Us Weekly, Vanity Fair, Vogue — the whole newsstand is Johnny Depp. It was just a fun way to nod at Johnny Depp as a fashion icon.

On Rei Kawakubo:
Obviously, she doesn't like to be shot. So we called in a look from the fall 2012 collection, and we shot it on this really great model while she's just hanging out on the corner like she's waiting for the bus, but she just happens to be wearing a conceptual, flat, felt flower dress. But you know, as one would in New York, you just hang out in your conceptual flat, felt flower dress.

On Marc Jacobs at Scott Campbell's tattoo studio:
Marc really came through for us. He was coming back to New York for the Met Ball, and we shot on the day of the Met Ball. He landed at the airport, came to Scott Campbell's tattoo place in Brooklyn, and then got dressed for the Met Ball and went to that. He was a trooper, and he liked the idea. He's obviously spent plenty of time there, so it's a place he's comfortable. We tried to be ready and make it easy for him to come in and sit down

On Reed Krakoff at Gleason's boxing gym:
Craig said, "You know, Reed is really into boxing. He photographs boxers, and he follows fighters. It's just sort of a personal hobby." So we called Gleason's and they said yes, and Reed showed up, and we said, "Reed, we really know you're into that, so what if we went and did a really great portrait of you at Gleason's?" And he said, "That's great. Let's jump in the car and go." He was totally a sport about the whole thing. He appreciated that we had thought of something that was personal to him.

On Scott Schuman and Garance Doré:
I think Scott and Garance are really observers. That's what they do — they go around the city and look for style, and so we thought it was really funny to put them on top of a double-decker bus looking over Times Square. We wanted to portray them as observers in New York and looking at the city. I think that's what they already do in their own way.

On Irene Neuwirth:
Irene is based in L.A., so for her portrait, we went out on a pier that was just open space. It was all backlight and sunny with wind blowing, and that was a nice touch for Irene's California background.

On Simon Spurr:
With Simon Spurr, we had him in a diner. He ordered ham and eggs.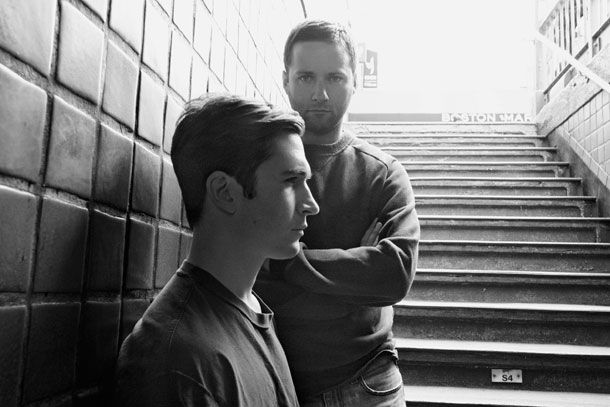 Proenza Schouler's Lazaro Hernandez and Jack McCollough, nominated for Womenswear Designer of the Year
"[McCollough and Hernandez] have a great sense of humor. They don't take themselves too seriously. Plus they're absolutely gorgeous to shoot. They make every photographer's job very easy. We had to do two pictures because they're nominated for two awards. For this one, we went down to the subway, and Craig started shooting. It was so funny — pedestrians were coming down the stairs with their grocery bags and other stuff, and sometimes they were in the picture. We were just finishing, and Lazaro just leaned against the wall like that, and Craig [McDean] was like, 'Stop!' There was something about the shapes that I thought was so great … them leaning against that subway tile of the F train. And I just liked that it shows the two of them connected, but yet they're each their own person. They're such real guys. There's no pretense about them — and yes, they do ride the subway!"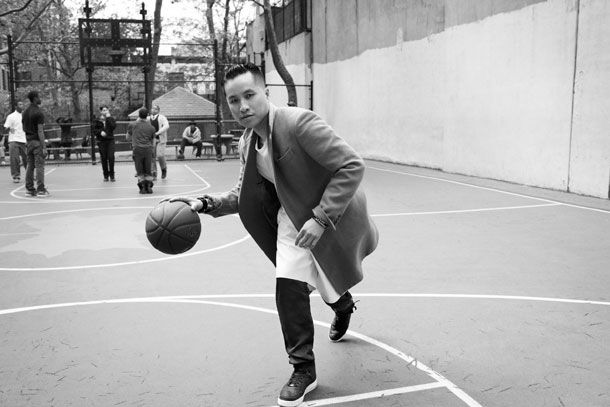 Phillip Lim, nominated for the Swarovski Award for Emerging Talent in Menswear
Phillip's was funny. Phillip's was more abstract, but I loved doing something that wasn't so posed. I really wanted to do somebody on a basketball court, like a pickup game kind of thing. Phillip has this sporty take on his men's clothes sometimes — he's not doing athletic clothing, but there are those little references. He's such an incredibly genuine, friendly guy, and when he showed up, he was like, 'Okay, what are we going to do?' I was like, 'Well, we found this basketball court here, how about we sort of shoot you playing basketball?' He was like, 'That sounds great, and I'm up for it, but I don't really play basketball, so just tell me what you need me to do and make sure I don't look silly doing it.' Which is such a great attitude. Other people would be like, 'I don't know, blah blah blah,' and start over-thinking it, but he did a great job, and it's really memorable because it's not just a person leaning against a wall."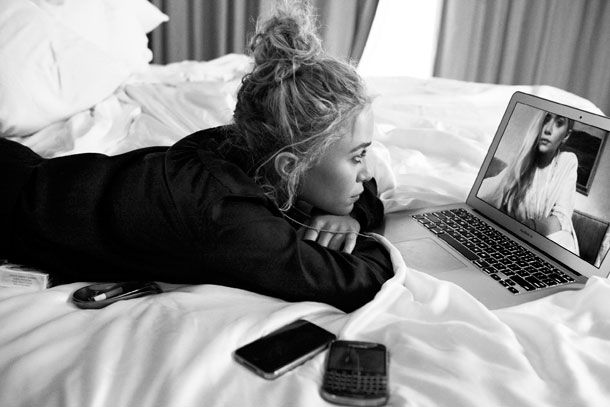 The Row's Mary-Kate and Ashley Olsen, nominated for Womenswear Designer of the Year
"That was a real challenge, because Ashley got stuck in L.A. and couldn't get back, and we really had to go to print, and I was really running out of time. Mary Kate was here, and we were trying to figure out how we were going to do it. I know Mary-Kate and Ashley, and I wasn't about to leave one of them out, so I really had to get creative with that one. Sometimes when you're presented with these Über-challenges, like you've got one girl in L.A. and one girl in New York and you're doing New York portraits, what do you do? Go! Sometimes it forces you to come up with ideas you wouldn't have otherwise, and it's actually one of people's favorite pictures of the book. Because you've never really seen that picture of two sisters Skyping face to face. They do it many times a week."