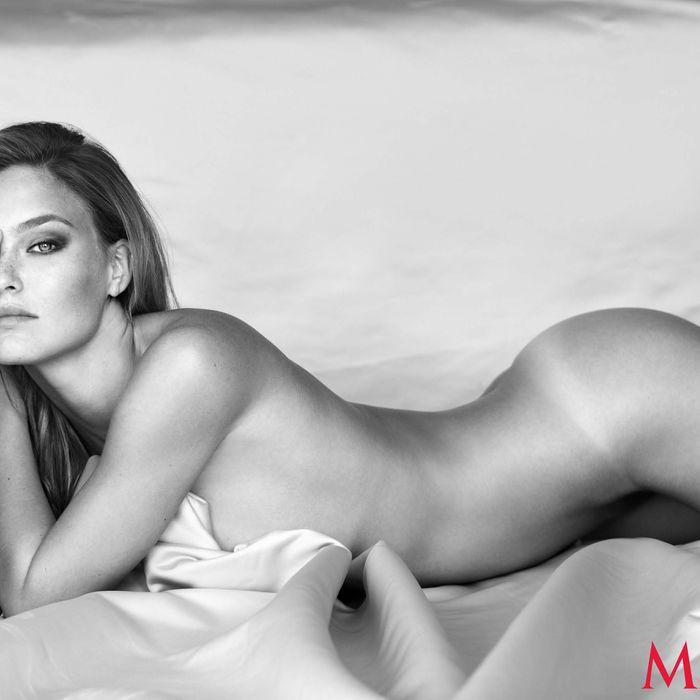 Bar Refaeli, shot for Maxim.
Photo: Courtesy of Maxim
Ten minutes into our phone call with Bar Refaeli, her phone beeped for the fifth time. "Oh my god, someone keeps calling me and will not stop," she said, apologizing profusely. Worrying it might be important, she finally answered it, only to return to the line a few seconds later, sighing with exasperation. "Ugh, this kid got my number, and he keeps calling me!" she exclaimed. Does this happen often? "It didn't happen for a long time because I changed my number, but now I guess I have to change it again!" she said, laughing. Phone stalkers aside, Refaeli was cheerful and humble, gamely discussing her brand-new title as Number 1 on Maxim's Hot 100 list, her underwear line (her dad prefers the long briefs), and her forthcoming reality show about modeling.
Congratulations on your new title. Did you vote for yourself?
No, I don't even think I voted for it. I knew that I was nominated, but I never thought it could happen. Then my agency called me, and I was super excited and very honored.
You've been given that "sexy" title a lot throughout your career. Do you ever get tired of it? Are you ever like, Oh, another person's telling me I'm sexy again.
No! Not at all, are you kidding? There's a cover here, and a Sports Illustrated there, and there's a title, you know, somewhere. And I never get used to it, because when I wake up in the morning I put on my baggy jeans and my T-shirt, and I feel not even close to being sexy. So when they come to me with these titles I'm like, Wow, I didn't even know I'm sexy. You know, you forget it. It's a really big compliment, like an alter ego kind of thing.
Do you feel like you have a sexy alter ego?
Yeah. I feel I'm sexy when I need to be in front of the camera. I kind of play with it, and I'm very, very confident. But on an everyday basis, I don't think I'm that sexy at all.
How do you amp yourself up for a photo shoot so you can become that person?
For me, it's just being in front of the camera. If I'm on a stage in front of a lot of people, I will shake, and I won't feel comfortable at all. But I was born with this confidence in front of the camera. I don't know how to explain it, but when you put a camera in front of me, I feel like I can let loose and act or move in a way that I'm kind of embarrassed to do around my friends or other people, you know? It's kind of like the camera is this alternate universe, and I'm a different person.
Do you wear makeup during your everyday life?
For a party I'll put on blush and mascara, but during the day I won't put on makeup. I'm really most comfortable in my baggy jeans and T-shirt. Of course, I like to dress up because I'm a girl, and sometimes I like to put on heels and an outfit to go out, but it's always a very simple, under-the-radar type of thing.
For red-carpet events, do you work with a stylist?
I usually ask my agency to turn to designers or showrooms to send me some options, and then whichever is the most comfortable is the one I usually pick. I'm never too extravagant or over-the-top or asking for too much attention.
Any particular labels that you find most comfortable?
For gowns, whenever I ask for Roberto Cavalli, I don't have to try it on, because I know it will always work. I like Stella McCartney, and for everyday, I love Isabel Marant. Oh, and I love Alaïa. [Her phone beeps for the fifth time.] Oh my god, someone keeps calling me and will not stop.
It's okay! You should answer it in case it's important.
Okay, I am so sorry. I'll be right back … [A few seconds pass.] Ugh, this kid got my number, and he keeps calling me … Ugh, anyways. 
Does that happen a lot?
It didn't happen for a long time because I changed my number, but now I guess I have to change it again! [Laughs.]
So, tell me about your lingerie line, Under.Me.
I started a lingerie line called Under.Me, mainly to fit my own underwear needs. You know, if I found some underwear that was comfortable and basic, I would buy like 30 pairs in the same color, and then it would get sold out or the store would stop carrying it, and it got too difficult to find it again. So I decided to open my own line of very basic, simple underwear that everyone can feel comfortable in and that can be ordered to your house. It's just the basics — leggings, T-shirts, underwear, long-sleeved shirts, tank tops.
Would you ever expand?
It keeps me busy, and we're constantly improving the fabric and the style and the fit. So, yes, we're going to expand the line a bit, but we're going keep this company basic. I have thought about doing it for jeans. I just need a good jean company to do the jean that's hard to find.
What's your design process like?
I don't know how to sketch. The first time I sat down with our designer, I gave her some guidelines, and my business partner, who's a guy, gave also his guidelines, and she started picking out fabrics. There's, like, twenty different kinds of 100-percent-cotton grays, and you have to pick the right one, and then they give me samples, and I try them on, and decide on longer sleeves, deeper V-necks, etc. And we wash it a few times to see how the samples react, so it's a big, long process in the beginning. It took us about a year, but now that it's out, it's so exciting.
Do your three brothers all wear your underwear?
Oh yeah. It's weird because, like, one of my brothers is obsessed with one underwear, the short ones, and my dad likes the opposite, he wears the long ones. They all wear the T-shirts. My dad has never worn a print shirt in his life. He always, always, always wears a plain T-shirt and jeans, every day.
Modeling can be such a tricky industry. Do you ever worry about your career's longevity?
I think today, actually, that's not the case so much. You know, Cindy [Crawford] still works, and Claudia [Schiffer] and Eva [Herzigova] and all these girls still work. Look at Heidi [Klum] — I mean, she's working more than ever. So I'm not worried about that at all. I'm actually worried that the more time passes, the more jobs come to my table, and I can't refuse. I kind of want to start relaxing, but it's like Murphy's Law, you know? But every job I get I'm actually very happy and thankful.
Can you tell me more about the movie you're working on right now, Kidon?
Yeah, it's shooting in Israel, and it's in Hebrew and in French. It's going to come out in France, so I don't know if you're going to be able to see it. I'm going do a TV show for Germany next month, too.
What is the TV show?
I think they're still debating between two names, but I think it's going to be called The Perfect Model. It's a reality TV show, with modeling mixed with extreme challenges — we're traveling the world and doing shoots. I'm the host and the judge in the contest, but it's not about who's prettier, it's more about who's braver and more enthusiastic and more ambitious. It's a really nice new contest.
How do you feel about Vogue's new anti-eating-disorders initiative?
I think it's a step in the right direction. Personally, when I see a very skinny model, it doesn't attract me. But I really believe that being healthy comes more from how you grow up. We can all blame the magazines and the campaigns for having skinny girls, but at the end of the day, if your parents tell you that you're beautiful, then you don't want to look like anything else or what you see in magazines. Luckily, I come from a very supportive and positive family that always told me I'm number one and that they love me, and I should love myself and eat healthy. But I do think that Vogue is taking a step in a positive direction, no doubt about it.