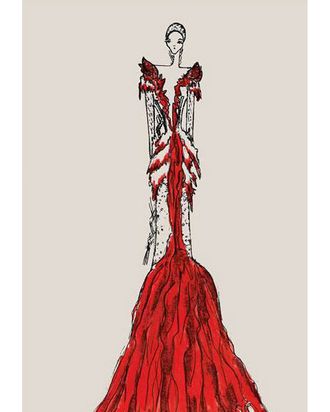 Donna Anna concept design by Rodarte.
Photo: Laura and Kate Mulleavy/Courtesy of V Magazine
As previously reported, the Rodarte sisters have returned to costume design for the L.A. Opera's performance of Mozart's Don Giovanni, which debuts on May 18.* Here's an exclusive first look at a sketch for the opera's female lead, Donna Anna, courtesy of V magazine. Laura Mulleavy says that they consulted a lot with the set designer, famed architect Frank Gehry, to develop the characters: "We first worked with Frank on the set because we all thought that we needed to understand the world that they're going to be living in," she tells V. The Mulleavys developed more than twenty costumes in all — long, fantastical gowns for the two female leads, as well as menswear for the five male leads. It's their first time designing for opera; meanwhile, they've reunited with Black Swan choreographer Benjamin Millepied (also known as Natalie Portman's husband) to do costumes for a yet-unnamed project at the New York City Ballet, so we can look forward to more fancy tutus soon.
* The date has been corrected.