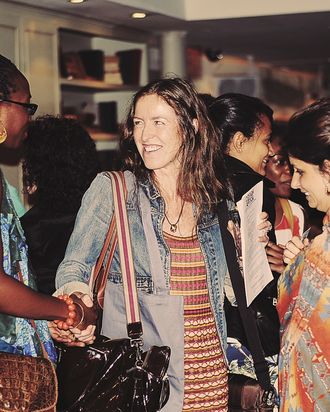 Last night, a panel discussion at the Soho House called "Design Africa" drew a significant crowd, including Edun founder (and wife of Bono) Ali Hewson, Julie Gilhart, and Barneys's new senior fashion director Tomoko Ogura. The conversation came on the heels of Suzy Menkes' International Herald Tribune article "Rebranding Africa" (no doubt in anticipation of the IHT's upcoming luxury conference on the topic) and the release of L'Uomo Vogue's May/June issue dedicated to the continent. The panel, which included Loomstate's Scott Hahn, Bantu Swimwear founder Yodit Eklund, SUNO's Nadiyah Spencer, and Enyinne Owunwanne of Heritage1960, discussed whether Africa's apparel industry would be "the next China" (known for competitive prices) or the "the next Italy" (known for craftsmanship).
Moderator and Essence editor-in-chief Constance White pointed out that a great deal of Italy and France's "prestige value" comes from government-sponsored promotion, and she asked whether African governments should go the same route. "It's not the right place to have this campaign — people are hungry," said Eklund, whose swimwear is produced in Ethiopia. Spencer, who oversees SUNO's production in Kenya, disagreed. "The backdrop of socioeconomic policy shouldn't say you can't make a product in Kenya and charge for it," she said. The word luxury was tossed around a lot, prompting one audience member to shout, "But what's luxury?" As an answer, of sorts, Spencer said a SUNO sample made in Kenya takes months to perfect, not unlike those made in New York ateliers. "It [is] a luxury to work with them, and teach, and make it."
A few panelists pointed out that calling a massive and diverse continent "the new Italy" was absurd. Hahn also called it ineffective marketing, explaining, "Africa is never going to become a new [source for] luxury, but specific places will." He said that customers value smaller stores, citing the example of a local coffee roaster. "You're talking about Brooklyn," he said, "you're not talking about America."
Passion Projects' Bridget Russo, who produced the event, said the imminent expiration of a fashion-friendly trade policy for brands producing in Africa made the conversation even timelier. The provision allows brands to import fancy foreign fabrics to lesser-developed African countries without paying duty, making places like Lesotho attractive to clothing companies. After an impassioned plea from lobbyist Nathaniel Adams for everyone to ask their congressmen to renew the provision, Edun designer Ricky Hendry piped up. He wondered whether allowing the agreement to expire might actually be beneficial, so that "super price-sensitive" (i.e., cheap) brands would take their production elsewhere.
There was no one from a "super price-sensitive" brand present to say his or her ugly sweatshirts brought lots of jobs to Africa, so that point went largely undebated. Even so, it was an impressive start to what's sure to be an ongoing conversation. (Russo said she's planning similar talks in London and Capetown and an event at Miami Art Basel.) Kiboni Nfi, an aspiring designer who had just returned to New York from her native Cameroon, said she was shocked by all the talk about Africa. "I had no idea it was such an item."