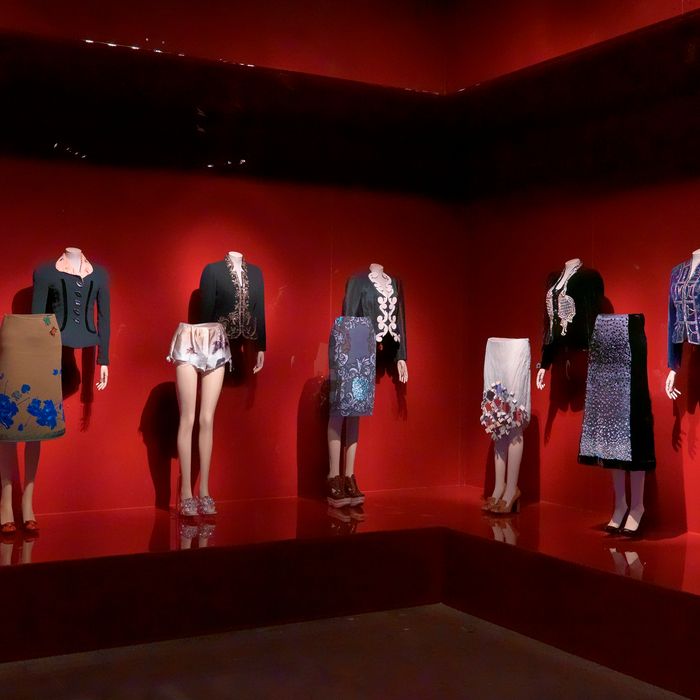 Photo: Courtesy of The Metropolitan Museum of Art
You might think that fictional conversations between Miuccia Prada (who is, of course, very much alive) and the late Elsa Schiaparelli (played by actress Judy Davis) would be a bit weird —  and you'd be right. When we entered the Costume Institute's new exhibit, "Schiaparelli and Prada: Impossible Conversations," for a press preview this morning, we encountered a large screen that shows the two designers seated at opposite ends of a long table, each drinking prosecco from crystal goblets. It was surreal and bizarre, particularly since the two women seem to be talking at each other (or to themselves) rather than to each other. But the videos certainly look beautiful — playing in sharp resolution against the walls, almost like moving paintings — and helped to enliven the otherwise static show.
Perhaps more interesting than Prada and Schiaparelli's chattering are the quotes from both designers sprinkled among the displays. Many of Schiaparelli's quotes were taken directly from her autobiography, Shocking Life, which was first published in 1954. Prada's quotes were culled from interviews done by the show's co-curator, Andrew Bolton. Here are some good ones:
Prada: I'm told that the women who wear my clothes vary dramatically. Of course, I'd hope that they were clever and interesting. I'd also hope that my clothes made their lives a little easier, that they made them feel happier. Not more beautiful necessarily, just more of a person. I try to make women feel more powerful without losing their femininity.

Schiaparelli: [I feel] that clothes [have] to be architectural: that the body must never be forgotten and it must be used as a frame is used in a building … The more the body is respected, the better the dress acquires vitality … The Greeks … understood this rule, and gave to their goddesses … the serenity of perfection and the fabulous appearance of freedom.

Prada: Women always try to tame themselves as they get older, but the ones who look best are often a bit wilder. Thinking about age all the time is the biggest prison women can make for themselves.
As for the clothes themselves: Prada–lovers won't be disappointed by this exhibit. One of the first galleries contains a whole wall full of Prada shoes — including the Cadillac heels from the spring 2012 collection — displayed next to Schiaparelli's fabulous hat designs. Meanwhile, the antique Schiaparelli pieces have been meticulously preserved and look just as fresh and vibrant as last year's Prada dresses. In some cases, old photographs of Schiaparelli's dresses must substitute for the garments themselves, but the images are large, glowing, and rendered lifelike by GIF technology that allows the women in them to blink occasionally, Hogwarts–style.
As previously reported, the show is broken down into several categories that both designers have explored in their work — see our slideshow for a preview, plus captions from the galleries. The exhibit opens to the public this Thursday, May 10.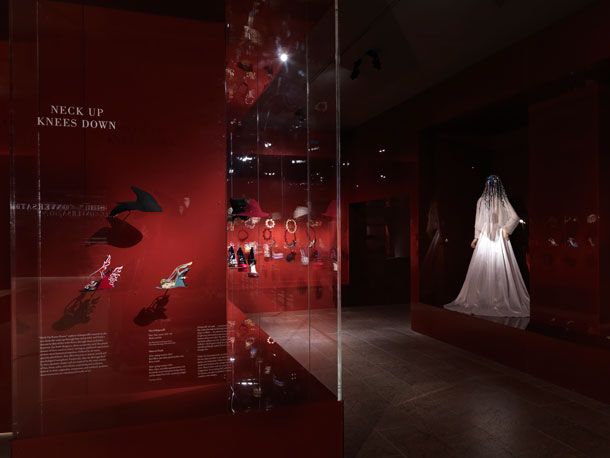 Neck Up/Knees Down
"'Neck up/Knees Down' explores Schiaparelli's interest in the area from the waist up through hats and jewelry and Prada's interest in that of the waist down through shoes and other footwear. For both designers, these accessories carry the poetic essence of their creative vision, serving as undiluted expressions of their most fantastical impulses. Defined by an ironic, quixotic playfulness, they often function as potent sexual and psychological metaphors. Frequently, they are distinguished by their dramatic shapes, and are inspired by the same science of line, form, color, and volume as painting and sculpture. Indeed, in their originality, uniqueness, and aesthetic qualities, these accessories are miniaturized works of art."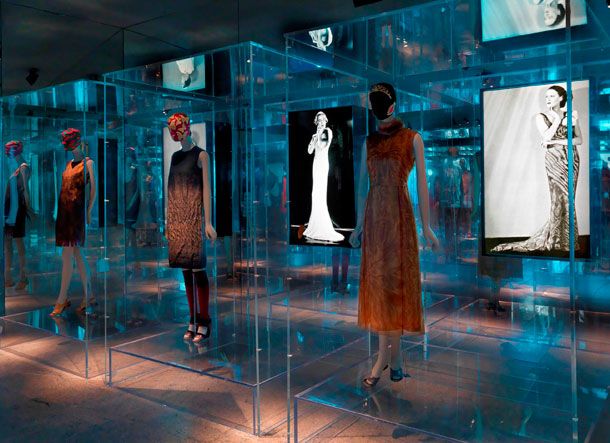 The Surreal Body
"The 'Surreal Body' circumvents the conventional meanings conveyed by dress and asserts a sexual and psychological component through trompe l'oeil illusions and unexpected juxtapositions of materials and imagery."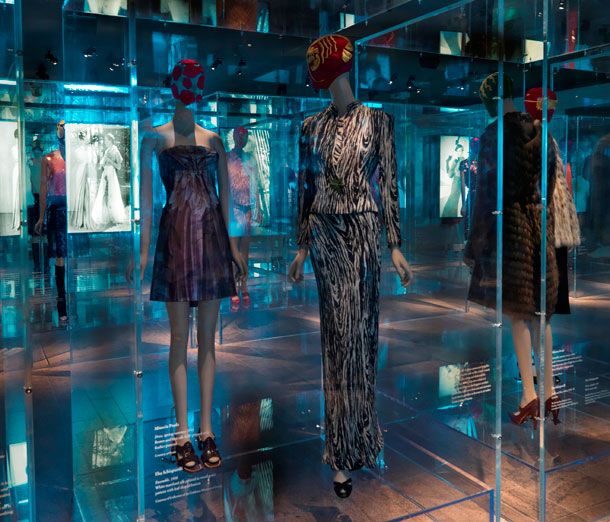 The Surreal Body
Prada: "My fall 2004 collection examined the concept of fake beauty, of beauty stripped of any nostalgia. I extended this idea into the fashions themselves, and included computer-generated prints that simulated techniques such as pleating. You had to look very closely to realize that they were all fake."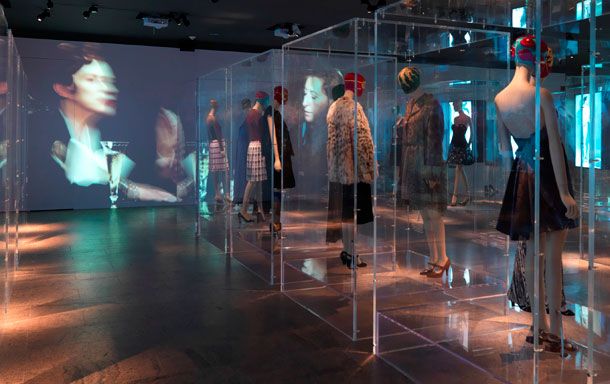 The Surreal Body
Schiaparelli: "Working with artists like … Jean Cocteau … gave one a sense of exhilaration. One felt supported and understood beyond the crude and boring reality of merely making a dress to sell."  Prada: "I don't collaborate with artists in the field of fashion because I want to be successful — both creatively and commercially — on my own. I don't want, and I don't need, artists to make my work more appealing."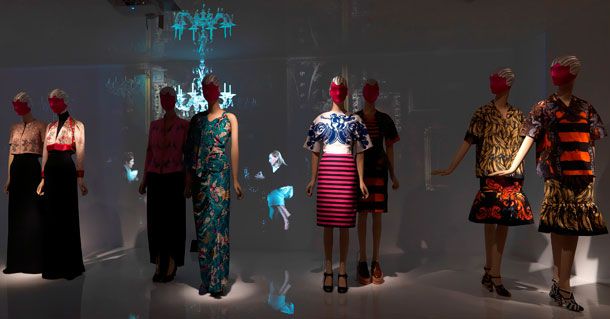 Naif Chic
"While chic is generally a consensus about what is fashionable, Schiaparelli and Prada challenge this consensus through subversive, countercultural associations … 'Naif Chic' takes the sugary sweetness of children's clothes and transposes it unexpectedly and somewhat disconcertingly to the 'not so young.'"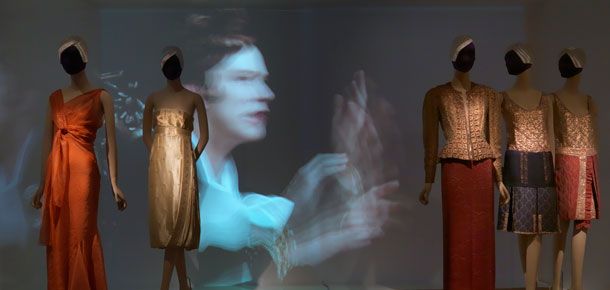 The Exotic Body
"In terms of the dressed body, the expressive possibilities are limitless, but, again, three ideas that emerge directly from the fecund imaginations of the two designers are explored in the exhibition. The 'Exotic Body' cites traditions outside the Western European system, with references to the regional styles of Asia."

Waist Up/Waist Down
"'Waist up/Waist down' focuses on the primary zones of the body onto which the two designers project their narrative attention — the waist up for Schiaparelli and the waist down for Prada. Schiaparelli's emphasis largely stems from the social needs of her day — specifically, the demands of Café Society. As women were usually seated in restaurants, decoration from the waist down was essentially redundant. Thus she devoted attention to jackets — often elaborately embroidered by Maison Lesage — that enhanced the visibility and photographic possibilities of the wearer. Prada's interest in the area from the waist down is personal and instinctive. Believing that part of the body to be both dynamic yet grounded, she focuses on the dramatic possibilities of skirts. For Prada, skirts articulate and accentuate the natural vitality and spontaneity of the lower body. More than mere canvases for adornment, they provide her with an array of expressive sculptural forms and silhouettes that reflect an iconography of feminine identity."