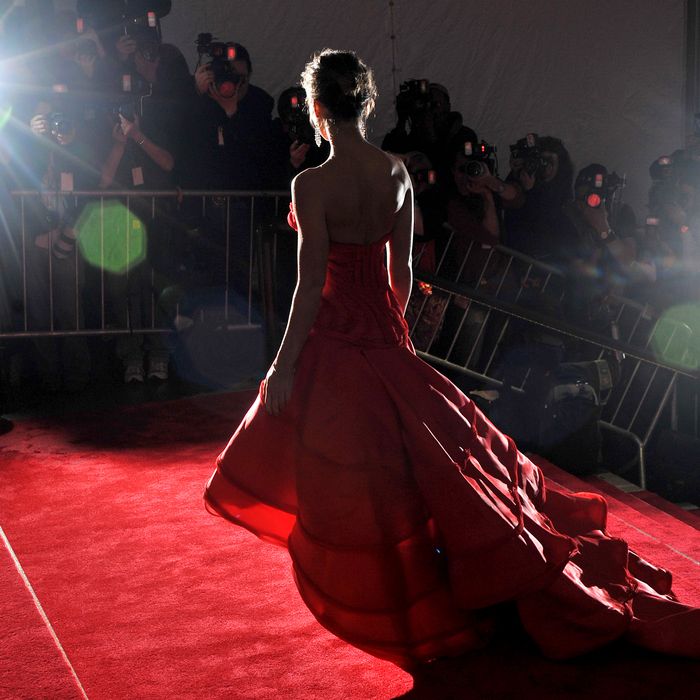 Jessica Biel pictured at "The Model as Muse: Embodying Fashion" Costume Institute Gala - arrivals at The Metropolitan Museum of Art in New York City on May 4, 2009. © RD / Dziekan / Retna Digital.
Photo: Dziekan/Retna Ltd./Corbis
We've heard the Met Ball referred to as the Fashion Oscars, and while it's true that both boast a red carpet crammed with beautiful people in dramatic gowns, tonight's gala, live-streamed for the first time on Vogue's website, might be a bigger deal for its guests: The designers are showing off for their harshest critics (each other), and the attendant starlets and models don't require a body of work as much as a body to work, which means the guest list often feels fresher and more random. Every year we look forward to finding out which ladies (and the occasional gent) have been deemed sufficiently stylish, sexy, or of-the-moment to be swaddled in a custom gown in front of fashion's boldface names — and cross our fingers that at least one of them looks delectably crazy. So many questions: Will Claire Danes crop up in Narciso Rodriguez after returning to his show in February? Will Rooney Mara attend, and since she scrapped the Salander coif, will she change up her edgy style too? And what item of Elizabeth Taylor's did Coco Rocha buy at auction for the ball? We hear it was a cape, but we're still crossing our fingers for an outrageous turban — which is, of course, what we will be wearing as we keep score of the night's big hits and misses. Please join us as we live-blog the arrivals. Plus, check out all the looks in the Cut's red carpet slideshow here.