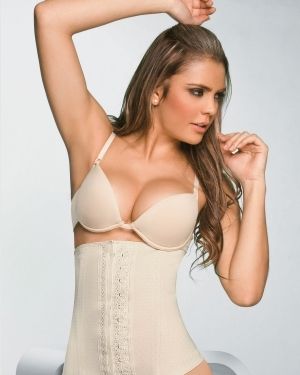 Goodness.
Photo: Classic Shapewear
A "faja" is a kind of girdle that originated in Colombia, one of the world's top destinations for plastic surgery, where people wear it after getting liposuction to minimize swelling and help prevent their skin from getting loose and flappy during the healing process. However, fajas then became popular among Colombian women just for everyday wear, with fashion sales surpassing medical sales over five years ago. Now they've become common in Latina communities, particularly in Queens, as well as other areas like Garden City and Great Neck in Long Island, according to today's Times.
The demand has been soaring. Colfajas, which manufactures fajas and exports them from Colombia, raised its production by 47 percent last year and exported 60,000 items, thousands more than in past years, said Jean Pierre Velez, who helps run the family-owned company.

Y & K, a small clothing and lingerie shop on Roosevelt Avenue in Jackson Heights, Queens, regularly sells out the roughly 4,000 fajas it ships in each year.
So how are these things all that different from, say, Spanx or other control-top contraptions you can find in any lingerie departments? Apparently fajas are tighter, much more uncomfortable, and just generally more terrifying than any other belly-smoothing garments on the market. Perhaps owing to their medical origins, they're not meant to look sexy on their own, like a corseted bustier — their sole objective is to make the wearer's waist look trimmer underneath their clothes. (Basically, imagine stuffing yourself into a rubbery Ace bandage with hooks and zippers.) 
And, to some retailers' shock, they're not just for fat people:
At Aishti, his store in Jackson Heights, Queens, Moussa Balaghi has begun carrying girdles in size "extra small," because, to his shock, so many teenagers and even younger girls were coming in to request them. "Only chubby fat girls used to use this; now, everybody is," he said, shaking his head. "If she has the smallest little thing at her waist, she wants to use this."
Anyway, these things sound awful and, in addition to being a bitch to wear, probably leave all kinds of unsexy red marks all over one's midsection at the end of the day.