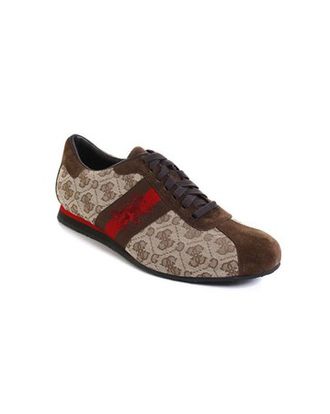 One of Guess's offending shoes.
Photo: Courtesy of Guess
While battling in court from late March to April, Gucci accused Guess, Inc. of copying their interlocking G logo, their red-striped color scheme, and their "shading" patterns, among other things. In their defense, Guess insisted that they got "inspiration" from all sorts of places, and they just plain didn't know why their shoes and other items looked so much like Gucci's. Unsurprisingly, the court sided with Gucci, and yesterday, a federal judge in Manhattan awarded Gucci $4.7 million in combined damages from Guess and its shoe licensee, Marc Fisher Footwear, WWD reports.
Of course, Gucci should be happy they technically won, especially since they first filed this suit back in 2009. But the damage fees are a tiny fraction of the $221 million Gucci wanted, which suggests they might try to pursue the case further. Although Gucci has yet to release a statement about the outcome, Guess CEO Paul Marciano said yesterday that he wished the case could have been resolved between the two companies instead of in court. Indeed, it's unusual for these scuffles to happen so publicly.
With this happening on the heels of the YSL versus Christian Louboutin case last summer, it's been a big year for high-profile fashion trademark lawsuits, highlighting the gray areas in federal law when it comes to such matters. But since the CFDA didn't have much luck lobbying for new antipiracy laws in Congress last year — not to mention that consumers will always want to buy cheaper knockoffs of designer clothes — these problems will probably continue to surface.