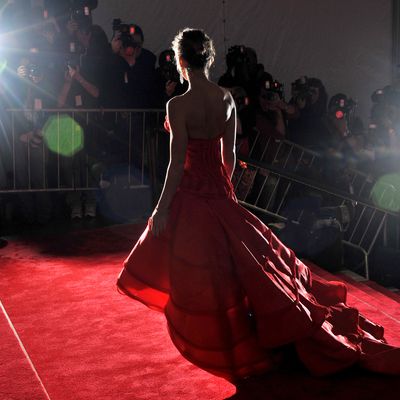 Jessica Biel pictured at "The Model as Muse: Embodying Fashion" Costume Institute Gala - arrivals at The Metropolitan Museum of Art in New York City on May 4, 2009. © RD / Dziekan / Retna Digital.
Photo: Dziekan/Retna Ltd./Corbis
As usual, we're covering every inch of tonight's Costume Institute Gala. Stay tuned for The Cut's full treatment, including:
• A behind-the-scenes peek at the exhibit this afternoon.
• The Fug Girls' live-blog of the red-carpet arrivals, starting at 6:30 p.m. EST.
• An up-to-the-minute slideshow of what everyone is wearing tonight.
• Video coverage of the red carpet tomorrow.
• Our complete best-and-worst-dressed list tomorrow.