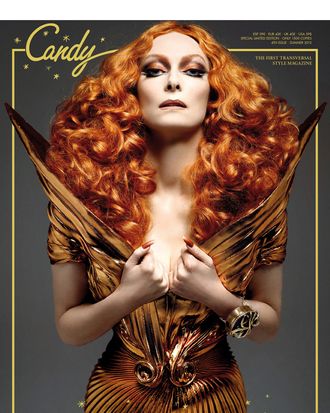 Tilda Swinton, shot by Xevi Muntane for Candy magazine.
Photo: XEVI MUNTANE/Candy Magazine
In case you're getting tired of seeing Tilda Swinton looking all swish and elegant on red carpets around Cannes, here's an almost unrecognizable picture of her on the new cover of Candy magazine. Doesn't she look like a sexy drag queen? Isn't her gold lamé Antony Price dress fabulous? Aren't you glad she doesn't look like this most of the time? The issue also features an editorial starring a pregnant man.