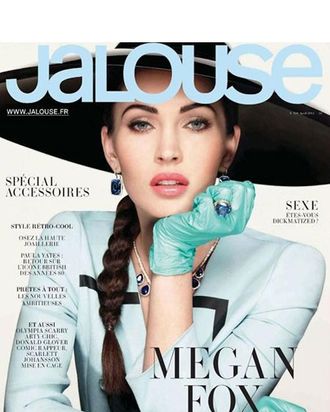 Megan Fox's April 2012 Jalouse cover.
Photo: Jalouse
In the April 2012 cover story for French fashion magazine Jalouse, Megan Fox was quoted as saying, "I live well with my image, I cannot complain, I would not trade my place with an unattractive girl." You know, because she never says ridiculous things she might later regret in interviews, ever. But this quote was unique in that she actually contested it, writing on her Facebook page on March 30:
Before this starts to circulate and spin into something else I want to address a "quote" that has started to run from an interview I did with a French magazine called Jalouse.
The quote reads "i wouldn't trade my place with an unattractive girl"
Sigh.
The actual comment, the context and it's intention are grossly distorted and misrepresented here.
I gave this interview in English obviously, it was then translated to French and now back into English.
I've never made vapid self serving comments and in contradiction am uncontrollably self deprecating. 
The quotes did make the rounds on the Internet, and Fox took a fair amount of heat for it, but now Jalouse has rolled over and admitted that they misquoted her. Fox wrote yesterday:
Thank you Jalouse Magazine for printing the following retraction:
"In a Jalouse cover story featuring Ms. Megan Fox, we unfortunately misquoted Ms. Fox. We apologize for any inconvenience this may have caused."
It's only a few months too late, but hey, lesson learned: Megan Fox is just fine with you printing all the crazy things she says, but only if they're self-deprecating.