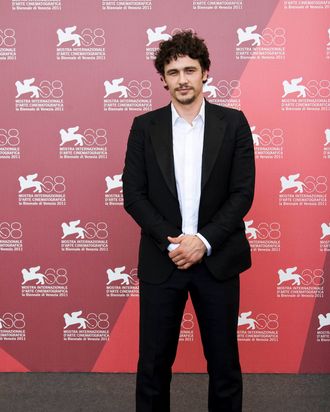 James Franco.
Photo: Foto Jacopo/Splash News/? www.splashnews.com
Being a face of Gucci, James Franco gets a lot of nice swag. "Every event, they give me a new suit," he explained at a cocktail party hosted by GQ and, yes, Gucci. "I've been working with them for years, so I have more suits than a person could ever wear in, like, five lifetimes. Sometimes I give them back." Does he wear them all? "Sometimes we use them in art videos we make. And some of my friends are my size, so they wear them." More on his modeling side gig, below.
So, are you one of those actors who rolls your eyes when you have to do fashion shoots?
When you pose for a photo shoot, a lot of actors will say, "I haaate it." But now that I've shot campaigns, I see that it's just like a performance. I think what actors don't like about it is that there's no mask that they're wearing — no role, like there is in a movie. But it's kind of the same thing as making a movie: You're trying to bring people into that character and tell a story. It's the same thing in fashion.
Photo shoots can be really awkward.
If you have a bad director, you don't want to open up to him or her. And if you have a bad photographer on a photo shoot, you just feel cheesy. But if you have a good director or photographer, it's like just playing a role.
Do you do anything on shoots to feel comfortable?
I just tell them to play music and I go with the groove, and then it's over.