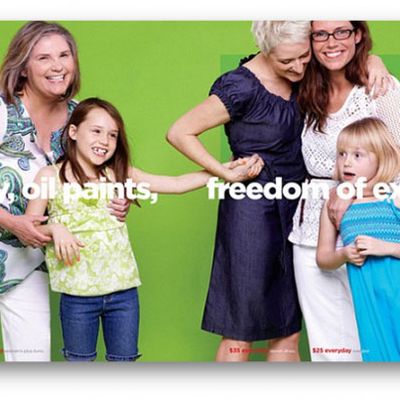 Lesbians in J.C. Penney's Mother's Day catalog.
Photo: Courtesy of JC Penny
Conservative watchdog group One Million Moms, which attempts to organize boycotts against brands like J.C. Penney and Urban Outfitters for featuring gay people in their promotional materials, might actually help their enemies more than harm them. According to a report from YouGov BrandIndex, a research firm that measures brand health, J.C. Penney's "consumer perception" numbers spiked after One Million Moms issued an online complaint about the retailer's inclusion of a lesbian couple in Mother's Day catalogue. (Consumer perception is calculated by compiling results from a series of customer surveys about quality, satisfaction, reputation, value, general impression, and willingness to recommend.)
YouGov BrandIndex quotes consumer perception data they collected from mothers with children under the age of 18:
Before the catalog was delivered, J.C. Penney's score was 80 on April 27th. After those catalogs arrived and One Million Moms posted their missive on May 1, the store's Index score rose to 88 two days later. 
Of course, there might not be a direct connection — the spike in J.C. Penney's ratings could be attributed to some particularly thrilling offerings in this year's Mother's Day catalog, perhaps. But, regardless, it shows that One Million Moms' complaints don't seem to have an adverse effect on consumers' attitudes towards a brand, giving us yet one more reason to ignore them.