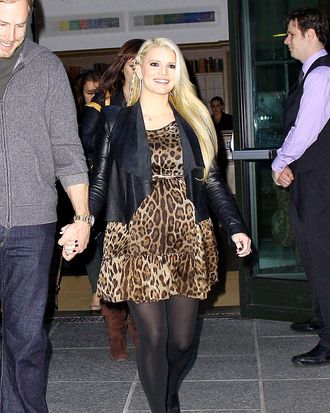 Jessica Simpson.
Photo: Saleem Elatab / Splash News/? www.splashnews.com
All of you who are really tired of jokes about how poor Jessica Simpson has been pregnant for seven trimesters, prepare to be relieved: Simpson reportedly checked into an unnamed hospital in L.A. sometime after she was spotted taking a drive with fiancé Eric Johnson yesterday. She was joined by her family members and Johnson's parents earlier today (should you be interested, TMZ has photos of Ashlee Simpson entering the hospital wearing a flesh-colored beanie and carrying a venti Starbucks cup). 
Update: Us Weekly confirms that Simpson gave birth to a baby girl this morning. Maxwell Drew Johnson weighed nine pounds, thirteen ounces, and gets her middle name from Jessica's mom, Tina. Both mother and child are reportedly doing well.