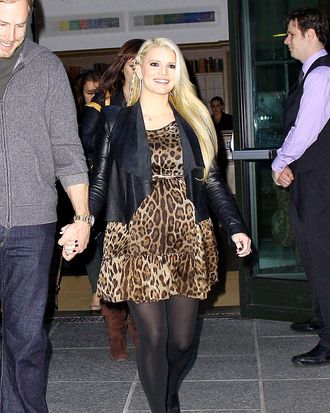 Ready or not, here it comes.
Photo: Saleem Elatab / Splash News/? www.splashnews.com
The only real surprise about Jessica Simpson's new maternitywear line is that she didn't do it sooner — then she wouldn't have had to worry about finding that leopard-print caftan at the last minute! Should you be interested in all the details: Simpson's business partner in the new venture, Destination Maternity, reportedly started courting her collection's parent company, Camuto Group, as soon as they heard she was expecting (insert hilarious joke about Simpson's never-ending pregnancy here). WWD reports that the first collection hits stores this fall and will have "a vintage Seventies feel," with lots of leggings, jersey tops, maxi dresses, knits, and other stretchy, comfortable things that women like to wear when they can't see their swollen toes anymore. Says Simpson, "You want to wear clothes that are flattering to your baby bump; you want to show your bump off." Well, she does have personal experience with that, to be sure. Next up: babywear.