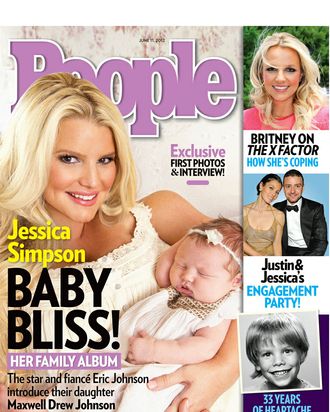 Jessica Simpson and Maxwell Drew Johnson.
Photo: People
Those $800,000 photos of Jessica Simpson and her new baby are now out in People magazine, along with the corresponding interview about how big the infant really is. Despite the media's complaints about the length of Simpson's gestation, it turns out little Maxwell Drew Johnson was actually delivered two weeks early and came out weighing a hearty nine pounds, thirteen ounces. (People reports that one of the delivery nurses exclaimed, "Woah, she is a chunk!") In keeping with her fleshy features, little Maxwell has now been dubbed "Moonface," and new dad Eric Johnson even distributed moon-themed Mother's Day gifts to all the lucky ladies in his life.
Reports People:
Just in time for Mother's Day, Johnson designed a diamond locket featuring Maxwell's birthstone, an emerald, and an insignia that represents the baby's nickname, Moonface. ("She came out looking like the moon," explains Simpson.) He also made matching necklaces for Simpson's sister Ashlee, Maxwell's grandmothers, and her godmother, Simpson's best friend Cacee Cobb.
Of course, the feature includes a plug for Simpson's new partnership with Weight Watchers, which she said she was planning to do even before she got pregnant. For now, she's sticking to the standard celebrity postbaby diet of kale juice, sautéed spring vegetables, and quinoa. (Also, should you be worried about her sex life, fear not! She says she's not supposed to exercise because of her C-section, but: "I think I have the sexiest man in the world. So that's the rule I break." Wink.) 
Speaking of: She says she doesn't want to have more kids until after she gets married, and while she hasn't set a date yet, it'll happen before the end of this year. "It's going to be one of the most amazing weddings of all time," she gushes. She also plans to carry Maxwell down the aisle with her, which could get complicated. Between Joe on one arm, a baby in the other, and a presumably enormous bouquet of flowers, which will have to go? Presumably Cacee Cobb will be around somewhere to lend a hand.