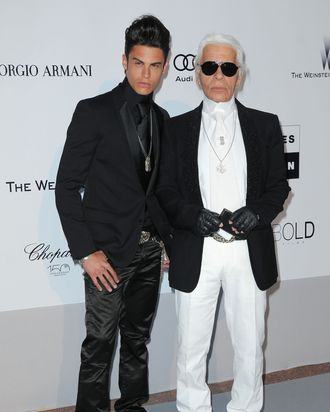 The muse and the mastermind.
Photo: Francois Durand/Getty Images
When Karl Lagerfeld signed on to redesign the landscape Hotel Métropole in Monte-Carlo, we envisioned Baptiste-shaped topiaries, or perhaps a fountain sculpture of Freja Beha and Anna Mouglalis locked in a tender embrace. But in reality, it's going to be so much better! The hotel released some of Karl's design plans to the Telegraph today, including a series of frescoes starring Baptiste as a toga-wearing, goblet-raising Greek god of sorts. (There's a particularly spectacular one of him striding forward in a sarong-type thing with a large, presumably wine-filled jug slung over his shoulder.) No word on where exactly these frescoes will be placed — Karl is redesigning the hotel's full exterior, including the pool, terrace, and a new Joel Robuchon restaurant — but no doubt they'll really tie the place together.