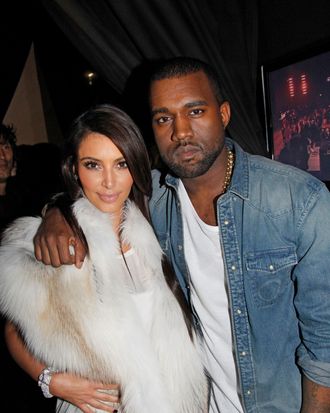 Kim and Kanye.
Photo: Eric Ryan/Getty Images
Kim Kardashian did not attend Monday night's Met Gala, despite having been glued to Kanye West's hip for the past several weeks. (He and his Givenchy tux went by themselves.) And since Kim has never been known to miss a red carpet or even a camera flash, everyone — and by that, we mean The Internet — has come to the logical conclusion that Anna Wintour banned her from attending. This assumption was buoyed by an unnamed source who told Radar Online the following:
Anna hates Kim … Why would she be invited to the event? It is all the biggest stars in the world and Kim doesn't fit that bill at all … Kim and her camp will deny that she wasn't invited by saying that she had business in LA, but that is a lie. She would of done anything to be there with all the A-listers … The Met Gala is $25,000 a ticket, but Kim couldn't even buy her way in.
Mudslinging this is, but it's true Kim has been totally ignored by Vogue (which is really just fine, because Vogue's fellow Condé Nast title, Glamour, has cornered the market on all things Kardashian). But it goes without saying that Kim's appeal doesn't mesh with Vogue and the company it keeps. When Kanye brought Kim to a Chanel dinner a few weeks ago — a decidedly upmarket, non-reality-TV-star-friendly event with guests like Robert De Niro and Julia Restoin-Roitfeld — both of them skipped the red carpet and tried to sneak in a side door. Whether this was their idea or Chanel's is still up for debate.
It's really not worth dwelling on Kim's Met Ball snub, if that's what it was (she's never been before, and really, did you miss her?), but what's more interesting is whether Kanye will be able to take her to all the shmancy parties he likes to gad around at. A big part of his (albeit somewhat shaky) fashion credit is built on his connections with high-fashion folks like the Roitfelds, Karl Lagerfeld, Anna Dello Russo, and Anna Wintour, who have stuck up for his design career by inviting him to events and/or attending his shows. If Kim isn't welcome to hobnob with this crowd, then things will get awkward very soon. Or maybe Kanye will just start leaving her at home more often, which would be okay too.