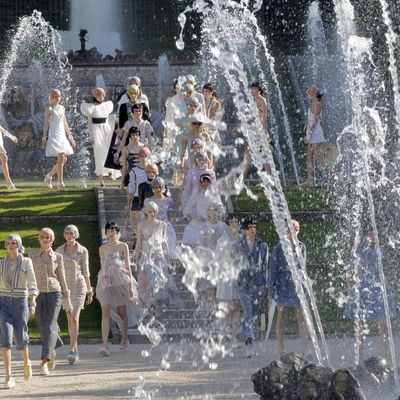 The finale of Chanel's Cruise 2013 show.
Photo: PIERRE VERDY/AFP/GettyImages
As you can tell from the photos, yesterday's eighteenth-century-themed Chanel show at Versailles was quite a to-do, what with those quilted watering cans and all. But it was peanuts compared to what Karl Lagerfeld is already cooking up for next year's cruise collection. "My idea is to hire a train, have dinner on the train, do the show in a ballroom and go back at night," he told WWD, adding that he may stage the show in Deauville, a picturesque coastal city in Normandy, to celebrate the 100th anniversary of Chanel's store there. But this season, having the show at Versailles was a nice change of pace, being so close to the Chanel headquarters. "As we are very, very busy, I liked the idea of not going too far," he said. That's Karl, always taking the Chanel team into consideration. What a guy!
See the Complete Chanel Cruise 2013 Collection.