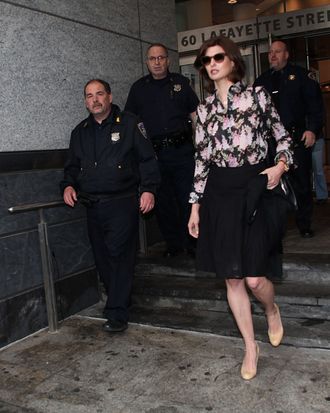 Linda Evangelista.
Photo: Rob Kim/Getty Images
Linda Evangelista and François-Henri Pinault reunited in Manhattan Family Court yesterday. The supermodel is seeking $46,000 a month in child support from the PPR CEO for their 5-year-old son, Augustin, and the proceedings were predictably ugly. How ugly? The New York Post puts it quite eloquently:
"Well, she can answer that," Pinault testified, in heavily accented English, when asked if he thought Evangelista had "taken steps" to get pregnant. "But I guess," he shrugged.

Evangelista, still stunning at 46, was prepared to drop her own bombshell — her lawyer indicating that she'll take the stand today and accuse Pinault of asking her to abort the baby.

"After some initial happiness, he indicated his preference to Ms. Evangelista that she terminate the pregnancy," Evangelista's lawyer William Beslow told Support Magistrate Paul Ryneski in opening statements, describing a conversation from January 2006.
Pinault's spokesman later said that he never told Evangelista to end her pregnancy. Other revelations from Pinault's turn on the stand include that the pair dated for four months, starting in September of 2005, and during that period, they spent only seven nights together. He apparently broke things off upon finding out that she was with child — "It was not planned. I decided to stop the relationship at that point … I was not involved in the decision of having a baby." The trial should take about four days.