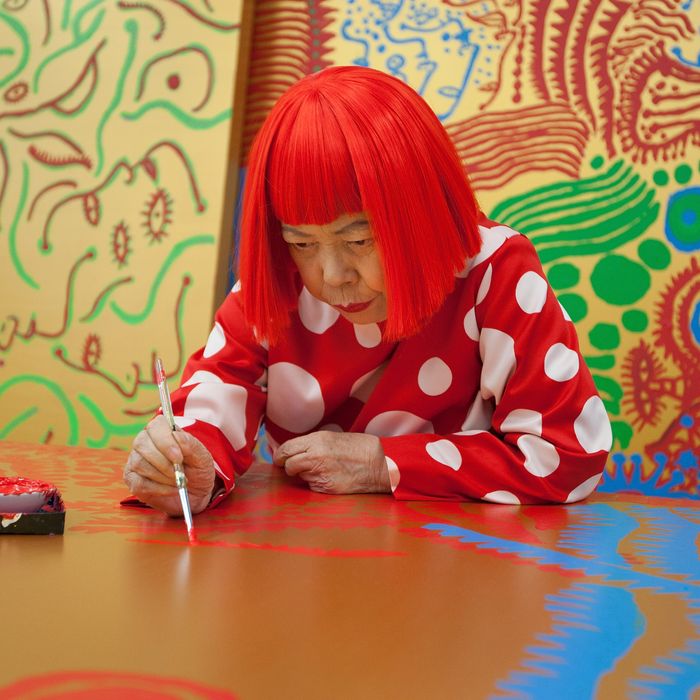 Yayoi Kusama.
Photo: Jeremy Sutton-Hibbert/Getty Images
Louis Vuitton has officially announced their latest major collaborator, Japanese artist Yayoi Kusama, who's known for putting brightly colored dots on everything from pumpkin sculptures to tree trunks to herself. Conveniently timed to coincide with Kusama's major retrospective at the Whitney Museum in New York, their collection will be unveiled on July 10. According to WWD, it'll include a huge range of dot-covered items like silk pajamas, dresses, trench coats, jewelry, bags, and shoes, all in vibrant primary colors.
Marc Jacobs has a history of getting artists to rework Louis Vuitton's motifs — most notably Stephen Sprouse and Takashi Murakami — and this collection will surely generate a similar amount of hype (and the subsequent eBay frenzy). The products will be sold in Vuitton's 461 stores starting on July 11, with a second wave of goods arriving in October. Vuitton president Yves Carcelle says that Kusama, who is 82 years old, has been "very involved personally in every detail of the product."
Kusama was born in Japan and moved to New York in 1957, where she became associated with the abstract expressionist movement. In the sixties, she got into pop art and famously organized a series of "Body Festivals" where she painted nude participants with polka dots. She moved back to Japan in 1973 and has been voluntarily living in a mental hospital since 1977, where she has continued to make visual art and sculpture as well as publish several novels, a poetry collection, and an autobiography.