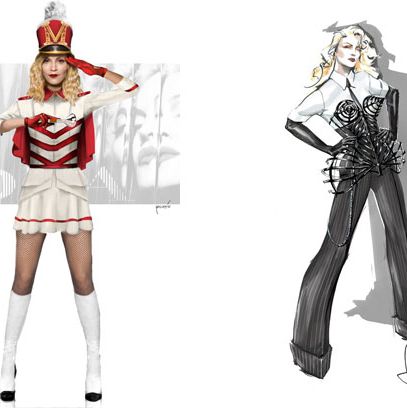 Renderings of two of Madonna's tour costumes, courtesy of WWD.
Photo: Courtesy of Women's Wear Daily
Madonna's MDNA concert tour starts in Tel Aviv tonight, and WWD got a preview of her performance costumes, including a Joan of Arc–inspired mesh dress (with a sword!) and, of course, lots of bra-and-panties combos. You see, the concert is a great way for Madge to promote her new lingerie line, Truth or Dare by Madonna. But don't worry, she hasn't forsaken her designer comrades, and her wardrobe will include what appears to be a basket-like cone-bra-slash-corset contraption, constructed by good old Jean Paul Gaultier.
He described his creation to WWD:
We played with the ideas of a suit and a corset. But the corset is now like a cage … What I have done this time is a nod to the conical bra corset of the Blond Ambition tour but reinterpreted in 3-D, in patent leather on the outside with metallic leather on the inside. It's all about masculine and feminine, Madonna and Jean Paul Gaultier classics reinterpreted for 2012 … I love Madonna. She is the only woman I have asked to marry me. She refused, of course.
Madonna will also wear garments by Jeremy Scott (who's apparently been in Tel Aviv for the past week, madly stitching things together at the last minute), Agent Provocateur, and Alexander Wang, as well as shoes from Prada and Miu Miu, all assembled by costume designer and stylist Arianne Phillips. The rest of her brigade will be well-outfitted, too: Her backup dancers will wear jeans by J Brand (which, we can say from personal experience, are very comfortable for high-kicks and other inadvisable dance moves) and ram's head masks designed by Fausto Puglisi. Meanwhile, the backup vocalists and band members get to hang out in Dolce & Gabbana suits. You'll get to see actual photos of all these things onstage after her tour kicks off tonight.