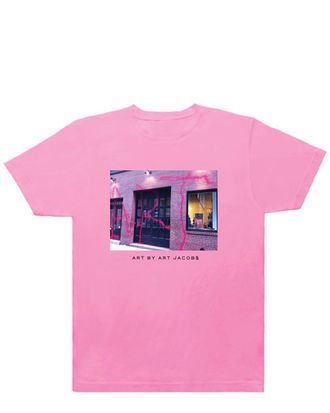 Throwdown!
Photo: Courtesy of Kidult
Earlier this week, graffiti artist Kidult tagged Marc Jacobs's Soho boutique with the word ART in hot-pink letters, tweeting a photo of his work on Tuesday. Presumably grumpy Marc employees scrubbed down the storefront that morning, enduring camera-phone photo shoots by gawking pedestrians, and then business continued as usual. But later this week, the label announced that they would sell hot pink "Art by Art Jacobs" T-shirts emblazoned with photos of the graffiti'd store. "Available now for $689. Signed by the artist, $680," said a tweet from Marc Jacobs Intl., which included a photo of the item. (We called the store to double-check, and that is indeed the price. And yes, they're in stock!)
However, Kidult himself doesn't seem to be amused by the shirt. He tweeted back, "@MarcJacobsIntl … ??? LET'S PLAY, but we don't play the same rules!" He later retweeted this from @lexisnotdead: "SHAME on you, YOU COPY @therealkidult to make money with it, capitalist thieve [sic] RT @MarcJacobsIntl." So, Kidult vs. Marc Jacobs? Those odds seem unfair.