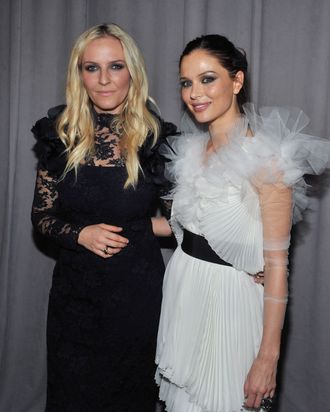 Craig, Chapman, and tulle.
Photo: Henry S. Dziekan III/Getty Images
Confirming earlier reports, Marchesa, with the help of LF USA, will launch a contemporary line for pre-fall 2013. Priced from $150 to $750, designers Georgina Chapman and Keren Craig plan to include "embroidery and prints." More from WWD:
"It's going to be under the Marchesa umbrella, but with a slightly different feel," [Chapman] said. "We have been so specific for such a long time, and the idea to broaden out to a different consumer, and to our same consumer as well. We haven't really looked at that market yet. My dream is to give Marchesa many facets, and that's just one of them."
Our dream? To always be wrapped in tulle for less than $200 and go about our daily activities. Chapman added, "I am not really a traditional American sportswear designer, so I am hoping Marchesa will have something to offer that is very different from what's on the floor at present." Make it happen, Georgie.