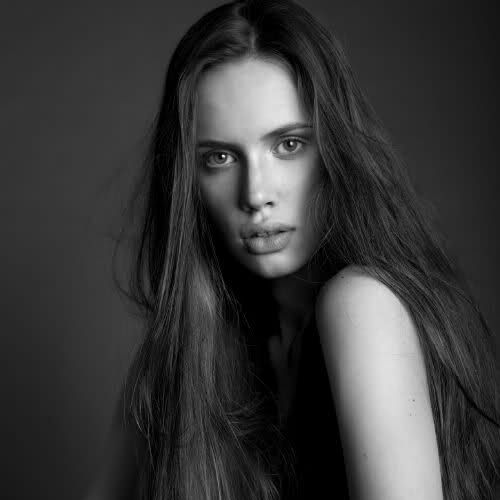 Photo: Courtesy of Next Models
Manhattan-born and Jersey City–raised, 18-year-old Georgia Hilmer is modeling on her own terms. Discovered two years ago at the movies, she cut three weeks of classes to walk in the fall 2010 shows before deciding the industry could wait for her high-school graduation. She returned to the runway in time for the spring 2012 season, and this past go-around, she booked a total of 26 fall slots, from indie label Creatures of the Wind's catwalk to Céline's scaled-back presentation. Of the latter's then-pregnant designer, Phoebe Philo, Georgia said, "I have a lot of respect for her to stick to her guns and present her show on her terms because of her personal needs … She was so professional the entire time, even though she was ready to pop." And now the model is moving further into editorial, having recently shot a major, soon-to-be-seen magazine spread. Georgia stopped by our offices this week to chat about Marc Jacobs's Over the Rainbow show (remember when?!), her recent Jeffrey Eugenides kick, and the best advice she's been given.
Tell me about your childhood and what it was like growing up.
I went to a bunch of different schools because I was a bit of a brat in the classroom and a nerd and constantly challenged the teachers, but I played a lot of sports — I did soccer and softball and track. Jersey City's so much like New York in the city aspect. I had a good time and got to experience a lot of culture, music, art, and theater, so I turned out alright. It was a pretty good childhood … I still live at home with my parents.
How you were discovered?
I was with my younger sister and my mom in the city, and we went to see The Blind Side, that movie with Sandra Bullock — a chick flick I'm not so proud of [seeing]. We went into the theater, and my now-agent saw us and sat through the whole movie and chased us as we left and flagged down my mom, gave her a card, and said, Please give us a call if you're interested. And so, a few weeks went by, and then I remembered, e-mailed her, and we met. And then a few weeks later, we signed with Next.
What did that mean in terms of school?
I booked out of school for three weeks to fly to London and Paris and Milan to do Fashion Week, and so my teachers were all pretty shocked, and so they didn't give me a hard time about schoolwork. But when I got back, I kind of realized that I liked high school so much that I didn't want to keep doing that, so I put modeling on hold until I graduated … So, I didn't model at all my senior year, I just focused on school and sports … and my agents were totally supportive, and I'm so happy they stuck by me, even as I cheated on them with high school.
What did your parents think of your decision to go into modeling at 16?
My dad kind of was with my sister in not caring too much. He wanted me to commit to school in one way or the other and wasn't so into the modeling thing. But my mom worked in the theater for a while, and so she was more interested in that aspect, the creative bits and all that. They like to Google me and keep up-to-date, but neither of them are crazy stage parents.
With the CFDA restrictions and the new Vogue Health Initiative, do you think 16 is an okay age to start modeling?
Well, I can only speak to my own experience, of course, but for me, I had an excellent support system in place with my family and my agency. But it is such a shock to the system, just because modeling is so different than anything else … I do think it makes sense, whether or not 16 is the right age, to have some life experience before modeling, because once you do, it kind of takes over. There's so much travel, and the work hours are so strange and all that. It helps to be your own person before you get involved.
During your first season you walked in Marc Jacobs's Over the Rainbow show. What was that like?
We had to do a rehearsal before the show started — there were, like, 60 girls, and we all had to line up inside this wooden box, and in the practice we did this, too — there was butcher's paper lining the box, and then we ripped it down, and we had to walk on this massively long runway. The production values were so high and so incredible that I kind of couldn't believe it. It was the end of my first Fashion Week, and the other shows hadn't been so epic, and to have this cap it all off it was just, like, incredible. [Marc] was actively participating in the show, with the ripping down of the butcher paper. He was so enthusiastic and friendly and nice, and I think he was just excited because he knew how cool it was going to be.
Cue to present day: You just got back from Chanel cruise.
I was so excited and so eager to do it, just because it was such an epic location. It was in the gardens, so we got to poke around. Chanel is always so professional, and … they're always so prepared, like their Porta-Potties are gorgeous, and all of that is taken care of. Their backstage food is definitely the best I've ever had … They made pancakes, they had Bellinis, they had tons of fruits and veggies, they had full-on Italian antipasti — it's good, they know what they're doing … But it was just such a cool experience to have been a part of, and I'm glad that one day I'll be able to tell my grandchildren that I did a fashion show at Versailles.
So, if you weren't modeling, what would you be doing?
I would probably be at NYU studying linguistics. I've deferred enrollment there, but I'd probably still be in the city, in college.
Have you read any good books lately?
I just read The Art of Fielding by Chad Harbach, and that was excellent, and I went on a Jeffrey Eugenides kick and read The Virgin Suicides, The Marriage Plot, and Middlesex all at once, and those were excellent.
What's your guilty pleasure?
Well, it's sort of a weird guilty pleasure because it's good for me, but there's this exercise dance class called Zumba, and it's like aerobics for 40-year-olds, but I go to it and dance my butt off, and I'm so uncoordinated, and I have no rhythm, but I love it — definitely my guilty, embarrassing pleasure.
Do you think you're beautiful?
I have moments when I'm on set and I'm all hair and makeupped up and feeling good, and I'm like, Yeah, but I'm supposed to be doing this. And then I have other moments where I feel like a teenager. It doesn't cross my mind so much. I'm not sitting at home in front of a mirror examining my face. But I think what's going on is alright. It's not too bad.
What's the best advice you've been given, throughout all of this or in life?
I had a really good high-school English teacher who told me, when I said that I wasn't going to college right away, to be in charge of my own education, so I make sure that I'm always reading and writing and seeing things no matter where I am, and that has definitely helped me out, keeping me balanced and staying sane and having interests outside of fashion and clothes.
Model Profile: Georgia Hilmer
Explore other rising stars (plus all the big names) in our extensive Model Manual, featuring runway pics, glamorous editorials, model bios, career timelines, and more.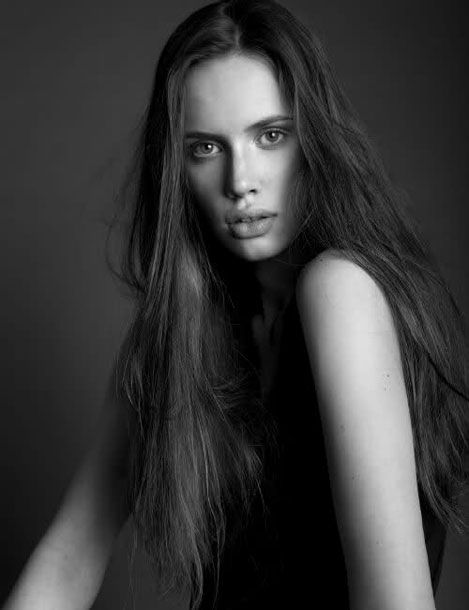 Head shot.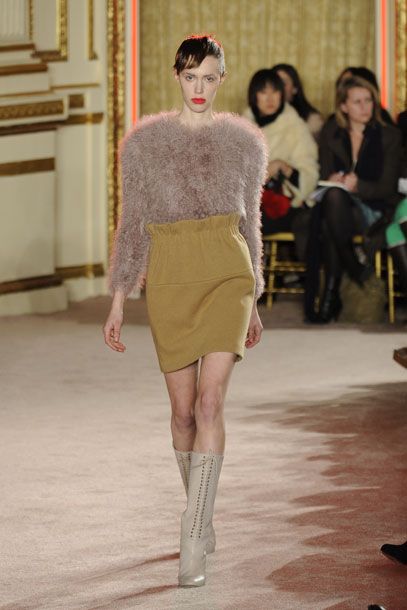 Walking the fall 2012 Thakoon show in New York.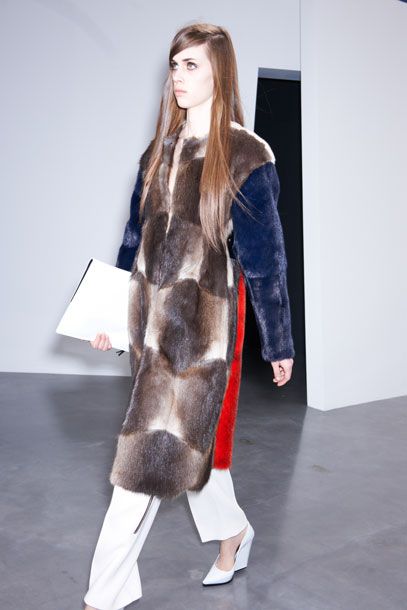 Walking the fall 2012 Céline show in Paris.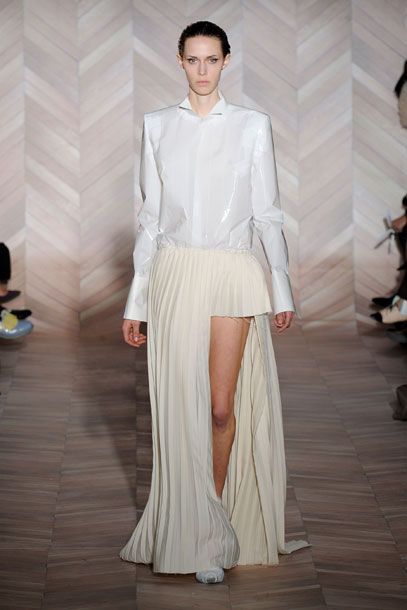 Closing the fall 2012 Maison Martin Margiela show in Paris.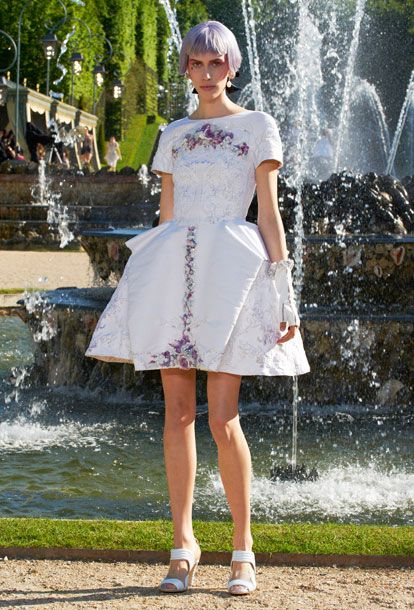 Walking the recent Chanel cruise show in Paris.