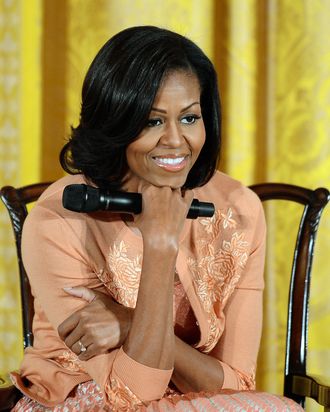 Dreaming of being a divaaa.
Photo: JEWEL SAMAD/AFP/GettyImages
Last month, Beyoncé posted an open letter to the First Lady on her website, that ended with, "Thank you so much for every single thing that u do for us — I am proud to have my daughter grow up in a world where she has people like you to look up to." Michelle responded the next day in the form of a tweet, which read, "@Beyonce Thank you for the beautiful letter and for being a role model who kids everywhere can look up to. –mo" Now, in an interview with People slated to hit newsstands Friday, Michelle details her feelings for the diva. When asked by the reporter, "If you could be someone else, who would you be?" Michelle replied, "Gosh. If I had some gift, I'd be Beyoncé … I'd be some great singer." There's also this visual, via Politico:
"Sometimes I can't get him to stop singing," she said of the president. "He loves it in the shower in the morning, sings to the kids. But it's not a song.  He'll sing one line of something romantic or cute."
Your move, Bey.