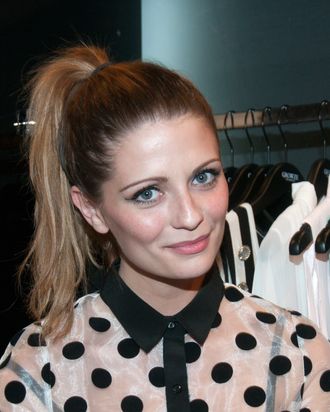 Mischa Barton.
Photo: Araya Diaz/WireImage
Mischa Barton has been talking about her forthcoming clothing line for a while now, and it dropped last night in Dubai. You can't get it in the U.S. yet — or really anyplace other than Dubai Mall's Rivaage Boutique — but that will change soon. She'll foist her designs upon the U.K. with a store in London's Spitalfields neighborhood next month, reports WWD:
 The store, which she said has a "vintage feel," will carry her clothing and accessories line as well as a range of Mischa Barton branded cosmetics.
So, why launch in Dubai? Women there like her stuff, apparently, and went out of their way to buy things from her accessories line, which she started in 2009. "It wasn't even available in this market, but women really made a great effort to get the bags," Barton told WWD. 
As for the clothes themselves, which range in price from $45 to $450:
The collection features feminine dresses, vintage style skirts and cardigans, jumpsuits, leggings and signature pieces like the "Mischa" jacket. Barton said she's still very much focused on acting, but the fashion line "gives me an opportunity to take out my creative energies."
It's unclear what the line's connection is to Mischa's Place, a bizarre-looking e-commerce website that features a mix of sketches of Barton's designs and actual photos of accessories and beauty products, but we'll probably find out soon — she says she'll bring her offerings to the U.S. late this summer.