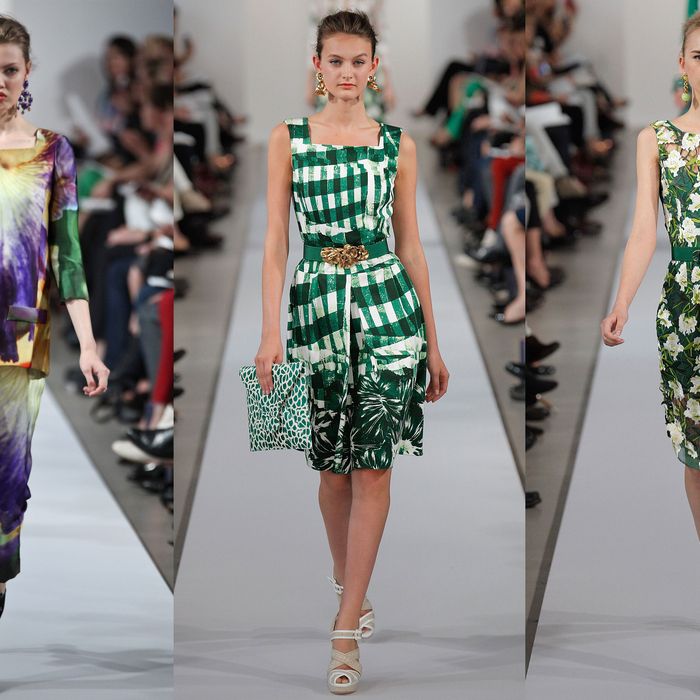 New looks from Oscar de la Renta's resort 2013 collection.
Photo: From left: Thomas Concordia/Getty Images, Randy Brooke/WireImage, Brooke/WireImage
Yesterday evening at 6 p.m., editors made their way through the drizzling rain up to Oscar de la Renta's new showroom next to Bryant Park (yes, the one with bees and tomato plants on the balconies), where damp trench coats and floppy umbrellas lay about like limp, wet creatures. The room was hot and muggy, so it was fitting that de la Renta commenced his resort 2013 collection with a parade of leafy dresses and picnic-friendly gingham. The show opened and closed with Lindsey Wixson, and all the models wore their hair pulled back in twists and buns with streaks of neon blue, yellow, and green clipped in. According to a tweet from OscarPRGirl, the hair "may or may not" have been inspired by Teen Vogue editor Eva Chen, who reacted appropriately by tweeting back, "ZOMG."
Never one to shy away from being overly matchy with his color schemes, de la Renta coordinated the models' electric hair with their jewelry, which included lots of enamel necklaces and earrings pieced together like brightly colored mosaics. The prints were all slightly abstract: Even the Wizard of Oz–esque ginghams were deconstructed, and the gardenia florals had a graphic quality. Languid watercolor brushstrokes softened up a group of sculptural suits and dresses made from thick, stiff fabric, which made the models look like very pretty sofas. There were echoes of some fall 2012 trends as well: rest assured that peplums are still going strong, along with sparkly paillettes and spiky-looking floral appliques. Sequins appeared on several items, most notably a green and white baseball tee worn with a puffy, calf-length gingham skirt — like Dorothy meets A League of Their Own, only sparklier.
The tail end of the show brought out a bunch of Oscar staples like bows, lace, ruffles, and gauzy evening gowns; one girl tripped on the hem of her beautiful gold dress right in front of Anna Wintour (who looked away sharply, as if to spare the model from embarrassment) but made an admirable recovery. Oscar appeared at the end of the runway at the show's conclusion, looking tan and fit as he waved. Unlike at many of his shows, he chose not to mingle with the crowd, disappearing backstage instead. To be fair, he was probably eager to defog the windows, and we were a wet, sweaty bunch.